TOY GLASS CANDY CONTAINERS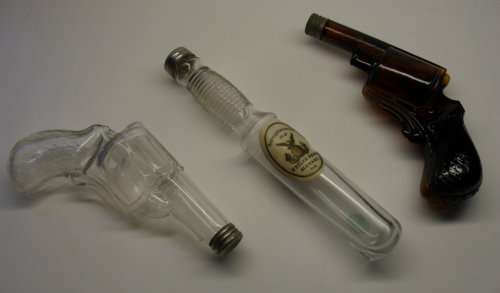 The first glass toy candy containers that were filled with candy pellet were made for the 1876 Centennial Exposition in Philadelphia. These glass toy containers were shaped like Independence Hall and the Liberty Bell. By the turn of the century, toy glass candy containers were being produced by dozens of U.S. glassworks, mostly located in Pennsylvania. Westmoreglass, Jeannette Glass, Victory Glass, West Brothers Co., T. H. Stough, L. E. Smith, J. H. Millstein, and J. C. Crosetti Co. just to name a few. The candy in these glass toys was held in place by metal caps, strips, or cardboard caps. These were originally intended for children, who would play with them long after the candy pellets were gone.

Some of these glass toy candy containers were made to look like trains, cars, buses, trucks. hollow guns, clubs, tanks, jeeps, ships, and airplanes. These were made to appeal to boys. Nursing bottles for dolls and glass doll house furniture to appeal to the girls., Other toy such as telephones, lanterns, rolling pins, irons, animals, and toy dinnerware were produced. Some items would be hand painted.

Originally thes glass toy candy containers sold at five-and-dimes stores and through catalogs like Sears Roebuck.

Glass toys went out of production during the Depression, between 1929 and 1939, and came back in full force during World War 2. With new automated factory assembly lines, thousands were produced daily. Due to wartime metal shortages, the containers were closed with corks, wood stoppers, or waxed cardboard strips. By the 1950s, glass toy candy containers declined in favor of much cheaper plastic toys. By the '70s, they went out of production all together.

Animal shapes tend to be common, while the more elaborate pre-1900 containers are the most sought after.

Below are photos of just a few of these glass toy candy containers.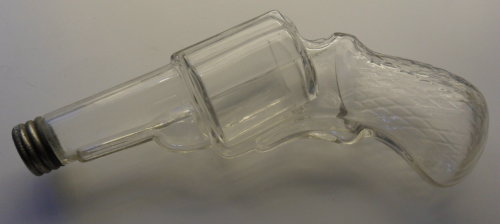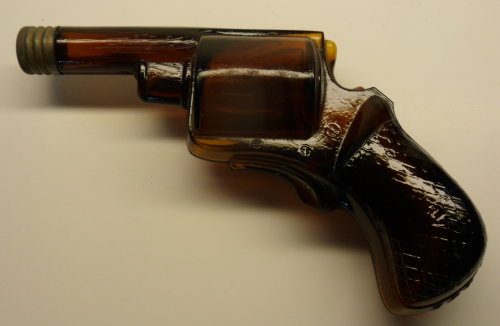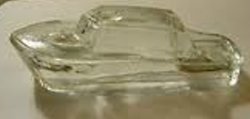 .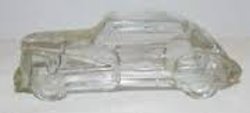 Below is a cardboard cap.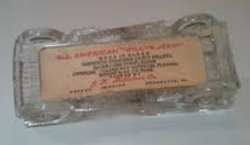 Beware of reporductions, below is a modern reproduction of a small hand gun.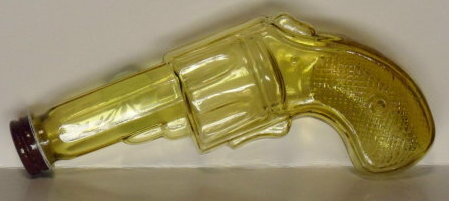 References:

Frank & Frank Jr. (Wicker) Bottle Collection.