SILAS. F. BAKER & CO. : KEOKUK, IOWA: MEDICINE PROPRIETOR

S. F. Baker was born in Sandy Creek Oswego County, New York. He would relocate to Illinios to become a farmer before starting a proprietary medicine business in Keokuk, Iowa.

Eugene Baker was born in 1850 in Waukegan, Ill. and was the son of S. F. Baker. He joined his father in the medicine business in 1868 under the name S. F. Baker & Son. The name would change again to S. F. Baker & Company which was located at Seventh and Johnson Street. The company was making family remedies. The firm also employed a group of traveling saleman.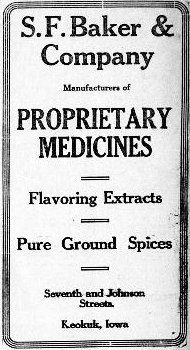 . Ad from the Daily Gate August 30, 1917.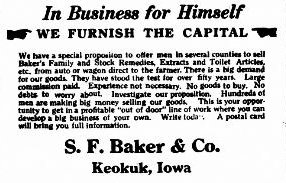 . Ad from August 20, 1920. Ad looking for salemen.


S. F. Baker would retire in 1883 and would pass away in 1898. Eugene's three sons would join him in the medicine business.

Below is just one of there embossed bottles. This aqua in color rectangluar bottle is embossed DR. BAKER'S / PLANTATION / COUGH SYRUP // S. F. BAKER & CO. // KEOKUK, IOWA.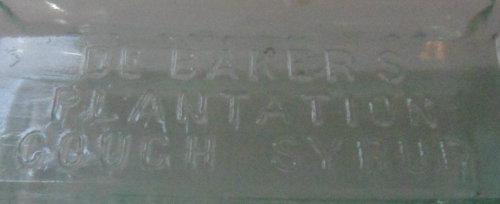 References:

Biographical Review of Lee County, Iowa. 1905.

Frank & Frank Jr. (Wicker) Bottle Collection.