HISTORICAL FLASKS: G11-81 & G11-82: EAGLE - EAGLE: STODDARD, NH.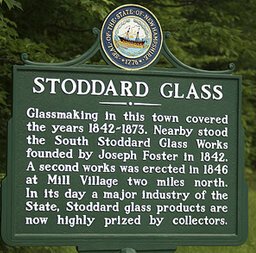 Below are just two of the many flasks that were produced by the Granite Glass Co.

This #G11-81 pint size is embossed GRANITE / GLASS CO. // STODDARD / N H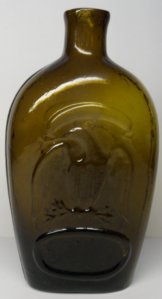 .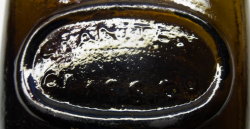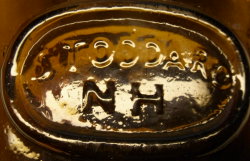 .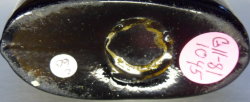 This #G11-82 pint size is embossed STODDARD / N. H.. Most likely produced by the Granite Glass Co.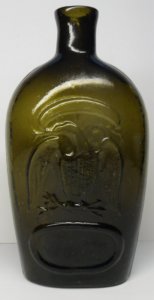 .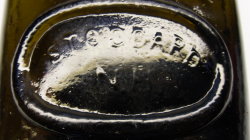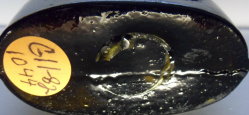 Here is a little about Stoddard, New Hampshire.

The territory was first granted in 1752 to Colonel Sampson Stoddard. The town was incorporated as Stoddard in 1774. There was five Glass company which produced glass in and nearby the town of Stoddard. Most of the Stoddard glass was dark in color with amber and green being the most common hues.

The five glass companys.

In 1842 Joseph Foster a former glass blower from the Keene Glassworks open the first Stoddard glassworks. The glassworks was plagued with financial problems and closed after two years in business. Foster would build another factory 400 yards from the first glassworks and started again to produce glass items. The second factory was more successful. Some of the well known bottles that were produced were the Dr. Townsends Sarsaparilla of Albany New York and the cornucopia flasks. The second glasshouse closed in 1850.

Another glassworks opened in Stoddard's Mill Village in 1846. It was called the Granite Glass Company and was started by partners Gilman Scripture, John Whiton and Calvin Curtice. It was reported in the New Hampshire census in 1850 that this company had eight furances and was producing around 500,000 bottles that year. This company was known for its whiskey flasks and medicine bottles. This company would close in 1862.

In 1861 nearby Mill Village another glass company was established by George W. Foster, son of the Stoddard glass industry originator Joseph Foster. Three of George's brothers also joined the company. This company was called the New Granite Glass Works.This company produced a range of glass bottles. The Fosters sold the company to Boston liquor agent Charles B Barrett in 1864. The factory would close when it burned to the ground in 1871.

The most successful glassworks was the South Stoddard Glass Manufacturing Company. The owners of this firm was Luman Weeks and Fredrck Gibson. The company was formed in 1850 and was known for producing bottles for the spas at Saratogo, New York and for mineral springs in Vermont, New Hampshire and Massachusetts.This company was in business for 23 years before closing in 1873.

References:

Michael George article "New Hampshire Glassmakers" Michael is one of the leading experts on Stoddard Glass and there bottles.

www.peachridgeglass.com

wikipedia.com

Frank & Frank Jr. (Wicker) Bottle Collection.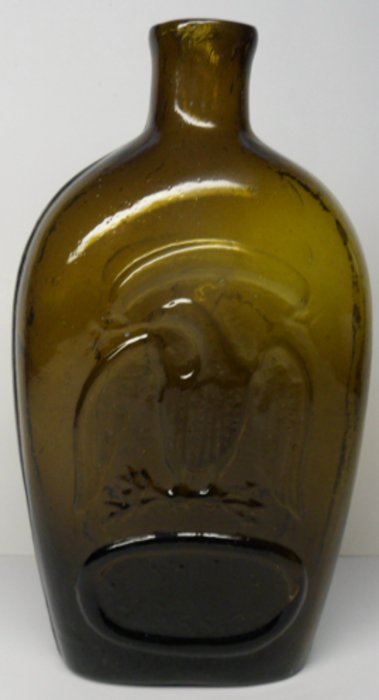 G11-81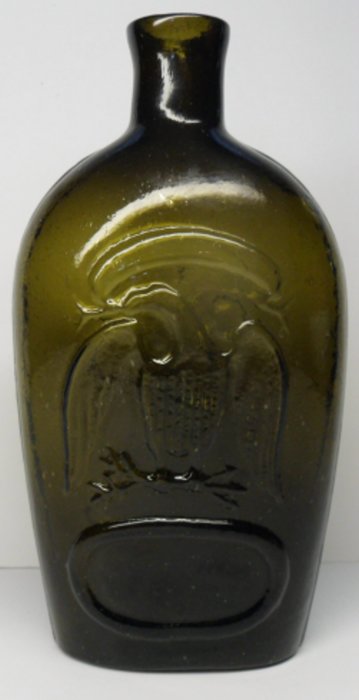 G11-82