CORNUCOPIA / URN FLASK (G111-11): MOUNT VERNON GLASS WORKS

Most of the cornucopia / urn flasks were made at Coventy Glass Works in Coventy, Conn. or Keene Glass Works in New Hampshire. But the G111-11 cornucopia / urn 1/2 pint flask was made at the Mount Vernon Glass Works.

Below are photos of the G111-11 flask in the 1/2 pint size.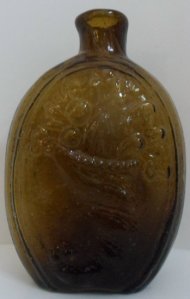 .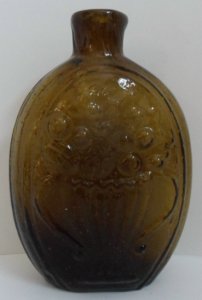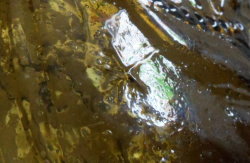 . On the G111-11 it looks like a birds foot coming outside of the left side on the horn.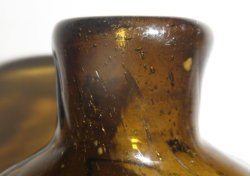 The Cornucopia signifies the "Horn of Plenty". It is a goat horn filled with the fresh fruits and vegetables to denote the "fruits of your labors" and represents a job well done.

Mount Vernon Glass Works (Vernon, New York) An act for incorporating the stockholders of the Mount Vernon Glass Company was passed by the New York State Legislature on February 17, 1810. The originating stockholders were Abraham Van Eps, William Root, Benjamin Pierson, Robert Richardson, Isaac Coe, Daniel Cook, Benjamin Hubble, David Pierson, Oliver Lewis and other local businessmen from Utica, NY and the surrounding area.

Mount Vernon produced bottles and hollow ware. Products of this glass works were primarily made from olive-green and aqua glass. Eventually flint glass was added to their line and blown three mold and some pressed table wares were produced. The glassworks was sold to Charles Granger in 1823. In 1828 the incorporation expired and the operations were continued as C. Granger & Co. Charles operated the glass factory with various partners until 1841 when he sold 3/4 of the company to his brother Oscar, Walter S. Todd and Henry Chapman. The following year Chapman sold his share to Oscar and Walter and in 1843 Charles sold them his remaining share. Between the years 1844 and 1846 Oscar Granger and Walter S. Todd moved the factory to Mt. Pleasant, NY. It is assumed that the factory was moved due to a shortage of wood.

Known bottle produce at the Mt. Vernon Glasss Works include the GIII-2 Type 1 decanter, the GV-5 Success To The Railroad flask, the GIII-11 Cornucopia/Urn flask, the GI-88 & 89 Lafayette/Masonic flasks and the GVII-1 and GVII-2 Tippecanoe cabin bottles to name a few.

References:

Frank & Frank Jr. (Wicker) Bottle Collection.