JOHN & ISAAC ELIJAH MOORE: J & I E M: INK WELL

The "Moore's" father and son owned a large ink producing company which they began operations in 1858. The company was located in Warren, Ma. The first ink wells from this firm were igloo style with a label. The second style was embossed J. M. & Son and are the rarest. The third style have a patent date of Oct. 31, 1865 along with the initials J. & I. E. M (which stands for John & Isaac Elijah Moore) embossed on them. The later third style ink wells was only embossed J. & I. E. M.

The earlyest examples of there ink wells were blown in cup-base mold and having a burst-off finish which received only the slightest amount of rim grinding to remove some of the sharp edges. The later ink wells having a stardard tooled finish. The company would close in the 1930s during the Great Depression.

These inks are called turtle ink wells by most collectors but are also known to be called "Monitor" ink wells. Name after the metal Civil War Navel Ship. Remarkably similar to the gun tuttet on the iron clad battle ship U.S.S. Monitor.

John Moore was born on October 27, 1802. His son Isaac Elijah was born on April 7, 1839.

Below are photos of there very common ink well embossed J & I E M / Pat Oct 31, 1865 in the color aqua. These ink well also come in colors of clear, various shades of green and amber to even cobalt blue. These color are more sought after by advanced collectors.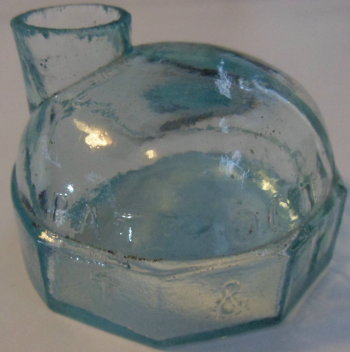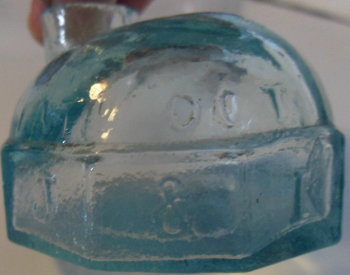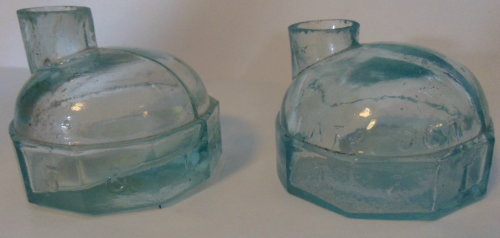 With and without Patent date. Notice the differents in neck length.

References:

Faulkner 2009.

Nelson & Hurley 1967.

Frank & Frank JR. (Wicker) Bottle Collection.