GEORGE C. HUBBEL: GOLDEN BITTERS: GEO C. HUBBEL

Golden Bitters was produced by George C. Hubbel & Co. on the corner of Water and Ferry Streets in Hudson, New York. The George C. Hubbel & Co. warehouse and central depot address was No. 55 Hudson Street which was within the American Express Building. His son, Henry W. Hubble also sold groceries from the Water and Ferry street location.

His Golden Bitters was introduced in 1863 and was advertised nationally. Below is a photo from the Hudson-Catskills Newspaper of his company. Notice the sign Golden Bitters.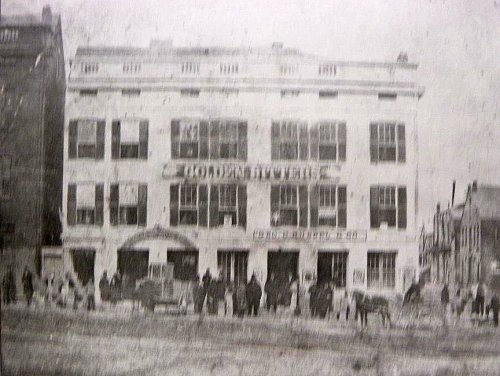 Below are two listing for George C. Hubbel.

1850: George C. Hubbel, age 35, Merchant, birthplace New York (1815), wife Ann, children Henry W. and Cuyer Hubbel – United States Federal Census.

1872: George C. Hubbel, distiller, 260 G'wich, 559 W. 33d and 368 Eleventh ave – Trow's New York City Directory.

Below are photos of two different variants of bottles his company used.

Embossed Golden Bitters // Geo C. Hubbel // C. Hubbel. This rectangular cabin bottle is aqua in color and is 10 3/8 inches tall.





The other variant is the same but with out the words Golden Bitters. The label would have said Hubbel & Co's Golden Bitters. This bottle is the rarer of the two.



.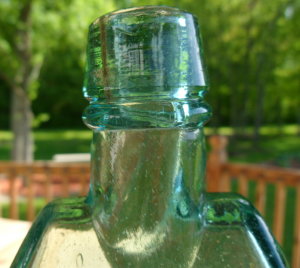 Below is a article which was in the New York Evening Express published on May 10, 1864.

"Many of the tonic preparations which are now giving universal satisfaction to the public were denoted [to the fair] in large quantities; prominent in the list was a generous invoice of Golden Bitters, from the manufacturers, GEORGE C. HUBBEL Co., of Hudson, N.Y., and whose warehouse is in the American Express Building, No. 55 Hudson-street, in this City. Although only recently introduced, the intrinsic value of this preparation has already produced a large demand, which is constantly increasing, and already promises fame and fortune to its energetic producers. That they not only understand the way to make a superior tonic drink; but that they have abundant business ability to let the public become fully aware of the fact has been amply demonstrated, in the seven or eight months just passed. During that period they have not only pursued a most liberal system or newspaper advertising; but every vacant fence curbstone, ferry-landing, even the rocks on the highway, have been embellished with large placards, "G — 1863 — B.""Hubbel's Golden Bitters," and hundreds of others, which have become to New-Yorkers as familiar as household words. It is claimed that these Golden Bitters have many superior medicinal qualities, independent of the one they are mostly employed for — an appetitive power. For Dyspepsia, Heartburn, General Debility, and Prostration, as well as for females of quiet habits, these bitters are said to be of superior value. In order to illustrate how readily a good thing can be remuneratively brought out in these days of progress, it is only necessary to state the facts, that the fabrication of the Golden Bitters, already incurs the employment of over one hundred hands, and the capacity of the manufactory is equal to the production of ten thousand bottles per day; yet it is said that so great is the demand that these, facilities will soon have to be largely increased. As a beverage, the Golden Bitters are extremely palatable, and those desiring a mild stimulant will undoubtedly find this an agreeable and beneficial one. While dealers only are supplied by the manufacturer, this bitters can be procured of Druggists, Grocers, at Hotels, Restaurants, etc., throughout the country, and even in the public drinking houses it is becoming a fashionable drink".

Below are some advertisements for Golden Bitters.



. Cleveland daily Leader June 30, 1864.

. Reading Times Feb 25, 1865.

. The Times Picayune July 24, 1866.

. Harpers Weekly 1864.

References:

www.peachridgeglass.com

Bitters Bottles by Caryln Ring & W. C. Ham.

Frank & Frank Jr (Wicker) Bottle Collection.