THE SAMSON BATTERY JAR NO2: THE E.G.L.CO. BOSTON, MASS

Below are photos of a battery jar. Its embossed THE SAMSON BATTERY JAR NO2 // THE E.G.L.CO. BOSTON, MASS.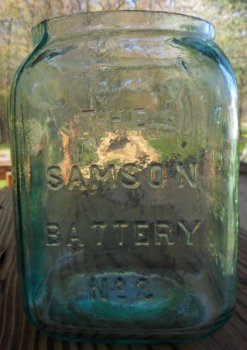 .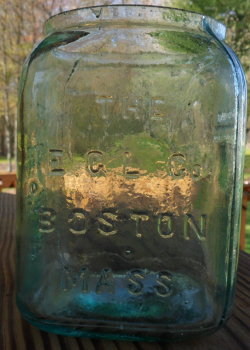 Here is a Samson Battery Jar complete.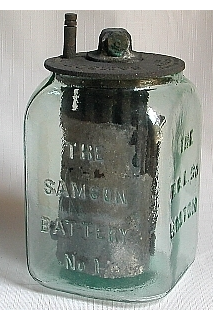 . Unknown sorce.

Below is an Illustration of the improved Samson Battery Jar.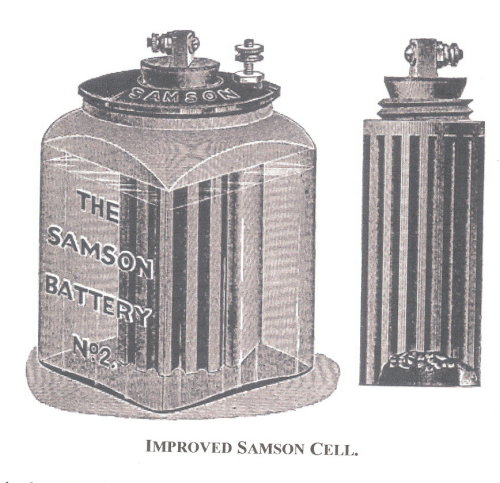 Here is a little about glass battery jars.

Battery jars had numerous applications. Besides used in laboratories these jars were used for telgraph sets and early telphones. Even the medical flied used these battery jar for there quack medical devices. Fooling there patients think the shock from the device would cure you. These jar come in all different sizes.

The jars held conductive solutions of either acid or copper suffate.

The Plante lead acid cell--1859.

The gravity cell -- 1860s.

The Lectanche cell--1866.

These jars were opened on the top when manufactured. But were covered with a lid that housed terminals and rods. There are many differents company that made these jars embossing there company name on them.

Below is a Samson Jar with a lable. Courtesy of ebay.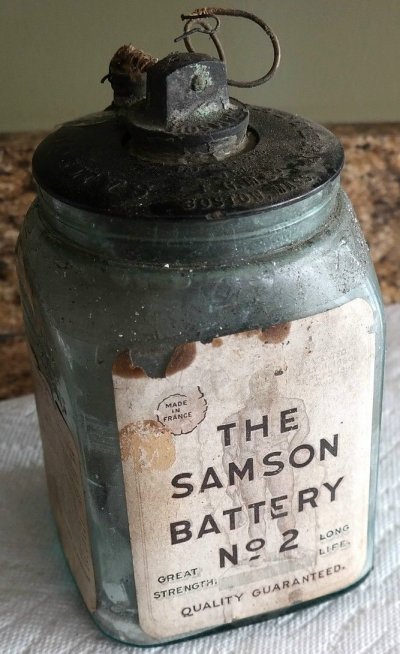 References:

The Enigma of Antique & Vintage Battery Jars.

Frank & Frank Jr. (Wicker) Jar Colletion.