CAWS INK & PEN COMPANY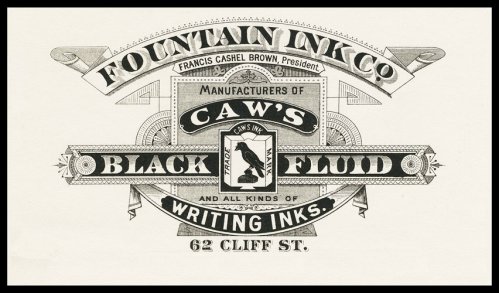 Francis Cashel Brown was born in Haysville, Ontario Canada on April 29, 1851. He was the son of James Major and Eliza (Crotty) Brown. Francis father James was a native of Londonderry, Ireland and immigrated to Canda in 1835.

In 1886, Francis Cashel Brown, joined the Fountain Ink Company which was located at 62 Cliff Street, New York. One of the products the company made was there crow-colored ink. This name inspired Francis to come up with the the name "Caws. When Fountain Ink went broke that October, Brown bought the assets in a bankruptcy sale. He changed the name to "Caws Ink Company" and named his wife its President.

Along with the ink production he started manufacturing and advertising the Dashaway pen that he and David W. Beaumel patent on November, 1886. Soon after Francis would open a retail store at 233 Broadway Street. At this location he would put his aunt Camille in charge of retail.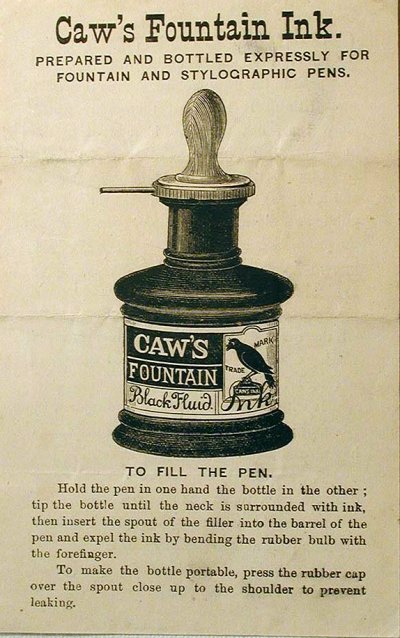 Soon after, Francis Brown would find himself in a law suit for a patent infringement. Wirt who was a lawyer prior to entering the pen industry had a patent for a overfeed pen which was granted on Feb 3, 1885. The Wirt-Brown trail of February 1887 end with the judge ruling in favor for Wirt.

But the defeat for Francis Brown did slow him down. He quickly created some new designs and published even more aggressive advertising.

At the 1889 Worlds Fair in Paris he would win first place for his pens and stylographics. He also was the first company to import his stylographic pen to Tokyo, Japan.

Former Presidents Benjamin Harrison and Grover Cleadland both used and indorsed the Caws Dashaway Pen.

By 1895 Brown invented and patented the spiral-cam safety pen. Shortly after W.W.1 the market for his fountain pens declined. He would leave the pen & ink business and become an insurance salesman. He would pass on Feb 1, 1939.

Below are two of his embossed bottles. The teal colered one is embossed CAW"S BLACK FLUID INK. Te smaller one is embossed CAW'S INK COMPANY.



.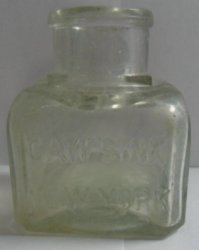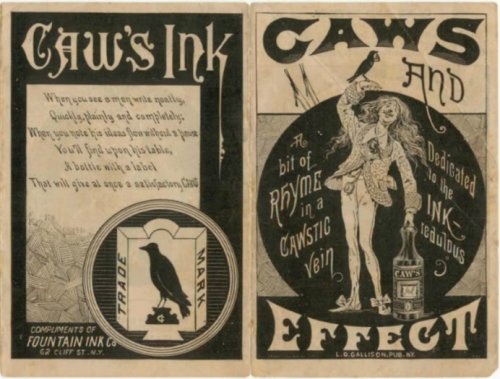 References:

Frank & Frank Jr.(Wicker) Bottle Collection.