BITTER WINE OF IRON: E.F. KUNKEL'S: PHILADELPHIA, PA.

Edwin F. Kunkel was born in Middletown, Pa. He would graduate from Philadephia as a Druggist & Chemist. He would open up a drug store in Harrisburg, Pa. He stayed in business in Harrisburg for fifthteen years. While in Harrisburg he would patented his Worm Syrup in Nov.13 1874. Shortly after on March 27, 1875 a application was filed for his Bitter Wine Of Iron. In 1889 he would relocated to 259 North Ninth Street Philadephia PA.

Below are some photo of his E.F. Kunnel's // Bitter Wine of Iron // Philadephia, Pa.



..

..



Below are some advertisements .



. From The Daily Cairo Bulletin July 18, 1878.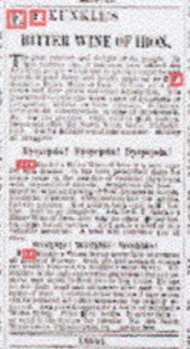 . From The New Bloomfield Pa. Time Mat 15, 1877.

Reference:

Pennsylvania Leading Merchant & Manufacctures

Photos of bottles unknown sorce.