GRIEL'S HERB BITTERS: GRIEL & YOUNG: LANCASTER, PA

Below are photos of the Griel,s Herb Bitters / Griel & Young / Mf'trs / Lancaster, PA. USA



.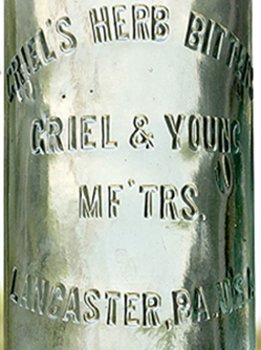 Death of the Venerable Jacob Griel – A Busy and successful Career.

Mr. Jacob Griel, one of Lancaster's oldest and best known citizens, died at his late residence, No. 302 North Duke street, at two o'clock Tuesday morning, after a lingering illness from prostration incident to old age. Mr. Griel had a remarkable career. Born in Germany, he came to this city when a lad of 15 years, and literally hewed his way up to position and fortune. For an ordinary lifetime he kept a shoe store on North Queen street, where the foundation of his large fortune was laid. Later on he engaged in the dry goods business, but for many years past his time and his means were devoted to real estate transactions. Among his possessions was a good-sized farm in the western part of the city, and here, in the past few years, assisted by his sons John and Jacob, he built hundreds of convenient modern dwellings, many of which have been sold on easy terms to mechanics and others of moderate means who were thus enabled to secure home for themselves. He was a member of the Lutheran church, and was honorable and upright in his walks. Twice married, both wives preceded him to the grave, but two sons and one daughter remained to comfort his declining days. The only surviving daughter is Mrs. Sultzbach, of Marietta. Another daughter, Margie, was the wife of H. H. Betz, photographer, and died some four years ago. The sons are Messers. John and Jacob Griel, both well known in the community as thorough business men.

Obituary from "The Weekly New Era", October 23, 1886.


It appears that there my be a conection between Mishler's Keystone Bitters and Griel & Bro. Below is a stencil for a wood bottle create box.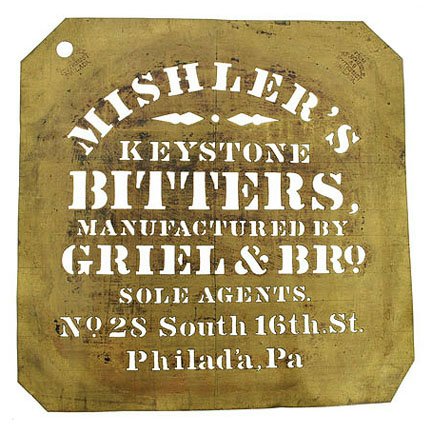 References:

Obituary from "The Weekly New Era", October 23, 1886.

www.peachridgeglass.com