WICKER COVERD BOTTLES & DEMIJOHNS

When you think of wicker coverd bottles the first thing that comes to my mind are demijohns or sometimes called carboys. But there are all sizes and kinds of bottles which were coverd with wicker for the protection of the glass bottle while in transport.

In the early days of covering these bottle children were employed for this task. Dyottville Glassworks, the Episcopal Reader Jan. 25, 1834 states:

"Nearly four hundred persons are employed in the various branches of the business, 130 of whom are apprentice-boys. For all work over the required amount the apprentices are allowed at a certain rate, some of which is paid to them for pocket-money, and the rest is kept until they become of age....Boys from six to sixteen are engaged as apprentices; most of them are children of very poor parents, and many are orphans. The youngest are employed in making wicker-work to cover bottles. For their use there is a school, kept in the evening by one teacher and two assistants. They are allowed to take recreation every day in a large field for a play-ground, within sight of one of the instructors; or in bad weather, in the large wash-room. The order of the day is as follows. The bell rings at day-light for rising. After washing, they attend on worship in the school-room, and thence to breakfast. The work hours are from seven to twelve, with an interval for rest and a luncheon of cracker. They dine at twelve, and work again, with a short rest and refreshment as in the morning from one to six. They then wash, take supper, and play until the school hour. At half past eight the smaller boys go to bed; the others remain for an hour longer, engaged in reading, drawing, music, &c."

The Register of Pennsylvania April 11, 1829 printed an article on the "House of Refuge", where orphan and wayward boys and girls were committed by the state.

"We were much gratified with a visit this week to the House of Refuge. Although the institution is still in its infancy, and of course many improvements in the management and discipline may be advantageously adopted - yet we were pleased with the advances already made. The boys were variously employed: some at bookbinding; some at carpenter's work; some a shoemaking and tailoring; and others at covering demijohns with wicker work."

This was a labor intense job untill a machine was invented by Becker and Volkman of San Francisco in 1874 which rotated a fixed bottle while feeding interlaces of rattan or wire thread.

Below are some advertisements for wicker coverd bottles.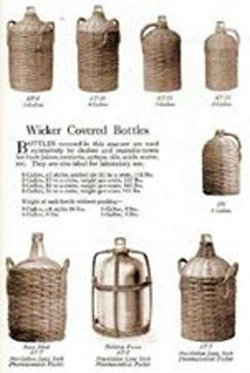 .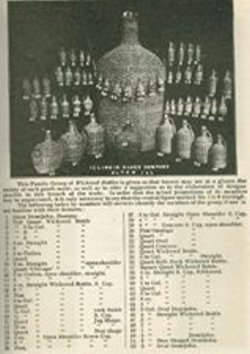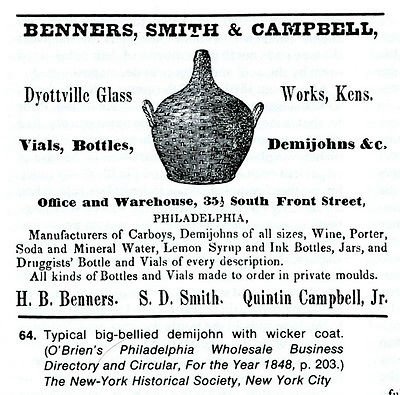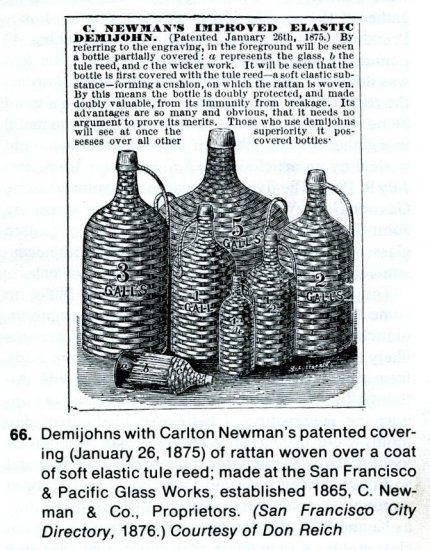 Below are some wicker coverd bottles.



..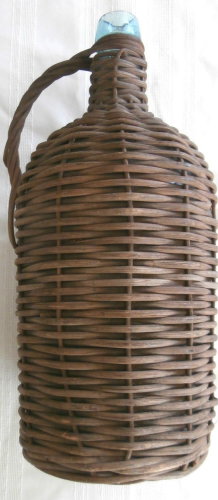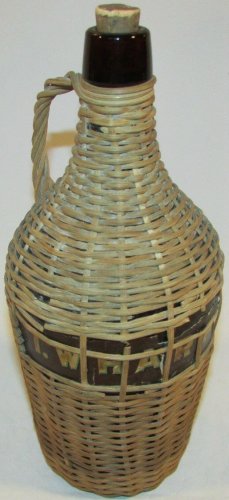 ..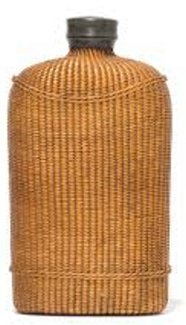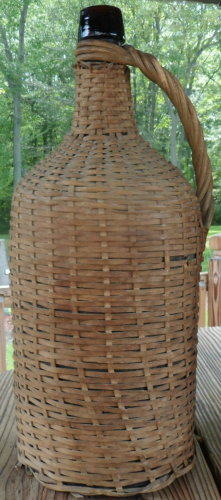 References:

Digger Odell Pub. 2008.

Some photos courtesy of ebay.

Frank & Frank Jr. (Wicker) Bottle Collection.