JOHN L. CASPER : COBALT WHISKEY BOTTLE
John L. Casper was a third Generation whiskey maker. His grandfather started outside of Winston- Salem around 1861. He would fire up the still that was on the farm and distilled whiskey for family use. John's father would serve four years in the confederate army. When his father return home from the war he and Johns grandfather would expand the small distillery and sell their product locally for several decades. John L. Casper would take over the distillery in the 1890s.
John L. Casper with help from friends and a promotional brochure he wrote to attract investors. Selling liquor direct by mail order. He would incorporate the business in 1900 and call it The Casper Company. He also would name himself president of the company.
Casper started with about a dozen stills. He also negotiated with two other distillers in Yadkin and Davis Counties to take their entire production . By 1905 The Casper Company was worth 250,000.00 dollars. He would have a full city block building built in Winston-Salem and proclaim that the firm was a distiller, rectifiers, wholesalers and a local outlet for Milwaukee's Pabst Beer.
Casper would market his whiskey in a cobalt color glass bottle with an attractive fluted neck. Bottle embossed CASPER'S WHISKEY / MADE BY HONEST / NORTH / CAROLINA PEOPLE. Below are photos of this bottle from 1900 to 1907.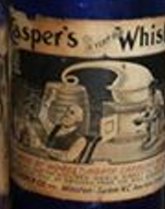 . Heres a Casper label.
He would also have a bottle embossed Casper's Whiskey from the Casper's Co. Inc. Winston-Salem, N.C. New York Chicago, St. Louis. But there is no evidence of having offices in these other cities. He would also use salt glazed stoneware's for his whiskey. Below is just one of these crock jugs.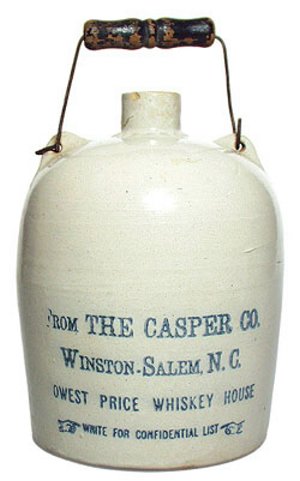 He also had acid etched decanters and back bar bottles made for customers who would place large orders with him.
Many counties along with some states were declaring prohibition and were going dry. But in the early 1900s there were no restrictions on mail orders where whiskey was proscribed a medicine. Your post master would deliver the booze in an unmarked box. By 1906 North Carolina legislature voted that the state would go completely dry. John Casper would relocate to Roanoke, Virginia in the Blue Ridge Mountains. Here he would build again. Casper's luck was running out and he would have to leave the business in Roanoke. By 1911 he was listed as an officer of the Atlantic Coast Distillery Co. in Jacksonville, Florida. The same year he was listed as a proprietor of the Uncle Sam Distilling Co. in Fort Smith Arkansas. By 1913 over a presidential veto the congress passed the Webb-Kenyon Act that forbids the transportation of alcoholic beverages into dry areas. John Casper would end up in Mexico were he would be laid to rest.
Below is a clear color Casper's.

.courtesy of ebay.
References:
Jack Sullivan Articles shots throw Virginia & The Supremes and Whiskey by Mail- Then & Now.
Frank & Frank Jr. (Wicker) Bottle Collection.