FISCHER'S DRUG STORE: KENDALLVILLE, IND.

Time line.

1903- Henry Fischer of Kendallville, Indiana purchased the stock of drugs from Henry C. Cunningham in 1903.

1903- Henry Fischer was the proprietor of the Star Drug Co. He was a prescription druggist in Kendallville, indiana.

1923- Hubert Fischer took over the drugstore.

Hubert H. Fischer Drugstore 1955. Still uncertain when the name changed to Fischer's.

Henry Fischer's first drug store was in Nappanee, Indiana in 1889. In 1902 he opened a drug store on Main street in Kendallville, Ind. The address was 107 S. Main St.

Henry's youngest son Hubert took over the drug store when his father Henry died unexpectedly in 1923. His customers called him Doc because of his knowledge of remedies.

Hubert's young nephew Craig Fischer began working in the store in the late 1940s. He would graduate from Purdue Pharmacy School and serve in the U. S. Army. He would return to Kendallville and purchase the drug store from his uncle Hubert in 1960. The store moved from 107 S. Main St. to 120 S. Main St. He also opened drug stores in Avilla and Albion. Both Stores were near Kendallville. Craig moved the Kendallville store a couple more time and then sold the business. He continued to work there until retiring in 2001.

Below is one of there nursing bottles.



.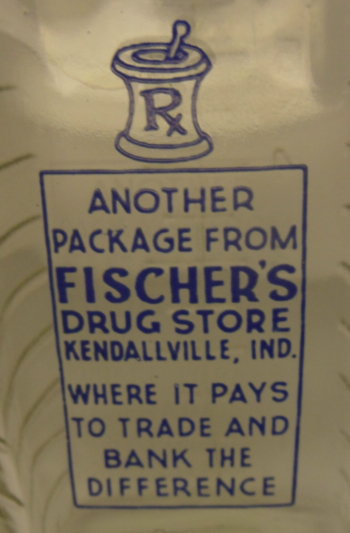 References:

150 years Kendallville, Indiana. By Terry G Housholder 2013.

Meyer Druggist Vol 35- 1914.

1903 Interstate Druggist Vol 4.

Frank & Frank Jr. Bottle Collection.