A. M. BININGER & CO.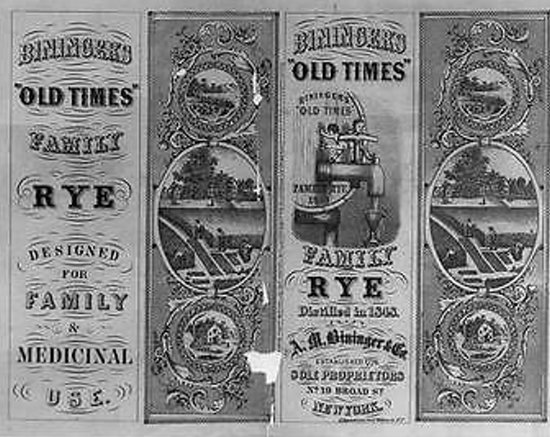 The Bininger name is now known in the old bottle collecting world for its wide variety of alcoholic products, which were produced in colorful bottles. The Bininger business was a grocery business along with liquor and wines.

Abraham Bininger started a grocery business. Abraham Bininger was born in Zurich, Switzerland in 1720. As a child he immigrated to the American Colonies with with his parents and others of their Moravians and Methodists faith. But two day before arriving in Savannah, Georgia both of his parent died leaving him an orphan. A Moravian family took him into their home where he would receive a education at the Methodist Orpan School in Savannah.


Here he would become a preacher of the Moravian faith. Also at about that time, the Moravian settlement moved from Savannah to Nazareth,Pennsylvania. While in Nazareth Bininger would get married. His wife would give birth to four boys.

He would give up preaching at Nazareth and would become a missionary at the Island of St. John in the West Indies.

He would then go to New York where he help a friend start the first Methodist Church in New York City. This is when he would give up preaching. He would purchase land in Camden Valley Near Salem, New York where he would build the Bininger Mansion. There he would die in 1811 at the age of 91.


Isaac Bininger was the second child of The Reverend Abraham Bininger. Isaac was born in Nazareth, Pennsylvania in September of 1760. Isaac inherited the Bininger characteristics but chose a life that was a direct contrast to his father's.

It is Isaac's tombstone that says he participated in the Revolutionary war. Isaac was only 18 or 19 years old when he would volunteered for the Revolutionary War in 1779. He was stationed at Fort Ann in New York where here he was taken prisoner and marched to Canada. There he remained a prisoner of war for three years until an exchange took place. Following his return, he joined his father and family at the Bininger Mansion in Camden Valley.

He opened a store in Camden Valley and it soon became very successful. His establishment became the largest store between Albany and Montreal.

Then Isaac married a woman named Elizabeth. On December 16,1800, Isaac's son Abram M. Bininger was born. He was to become more commonly known to bottle collectors as the A. M. Bininger of A. M. Bininger & Co.

The store in Camden Valley would relocate to New York City around 1778 and was known as the A. M. Bininger & Co. The business would advertise extensively in newspapers and the business would grow and flourish.

But the question still remains when was the company started.

The labels on the Bininger bottles state that the company was established in 1778. Yet Isaac's gravestone states he was born in 1760. That would make him 18 years old in 1778. Abram M. Bininger's gravestone gives his birth as 1800. Could the Biningers have bought out a company that was established in 1778 and kept that date?

The company operated for over 100 years. It may be of interest that the greatest number of embossed Bininger bottles were produced from 1858 to 1865.

A.M. Bininger & Co. seems to have moved often. In late 1857 or early 1858, A. M. Bininger moved to 17 Broad St. The firm moved again, probably in late 1859, to 338 Broadway. The company flourished during the Civil War years. Housed at 19 Broad Street from 1861 until 1863 or early 1864. Some of the figural the company used were jugs, urns, flasks, a cannon, and a clock were proudly embossed with 19 Broad St. By 1864 A.M. Bininger & Co. had relocated to 375 Broadway than relocated to 39 Walker Street by 1866 and it moved next to 15 Beaver Street the following year.

Below are some photos of just a few of there bottles. You can obtain qiute a collection of Bininger bottles.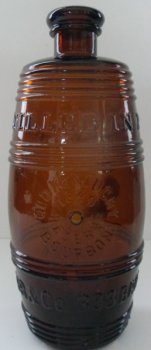 .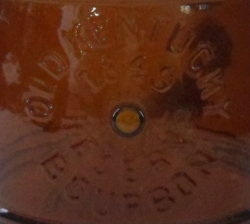 This barrel is the 338 address.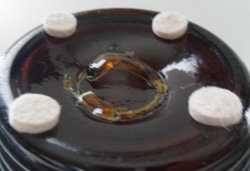 .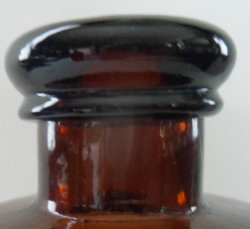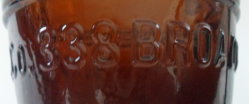 Below is there Jug in amber. No 19 address.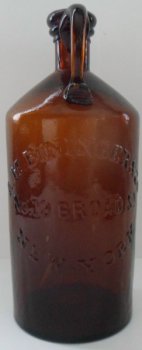 .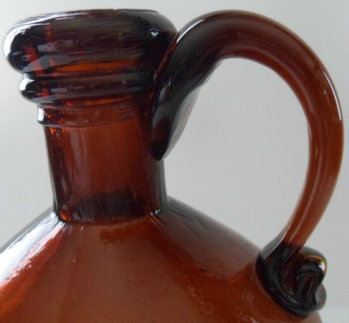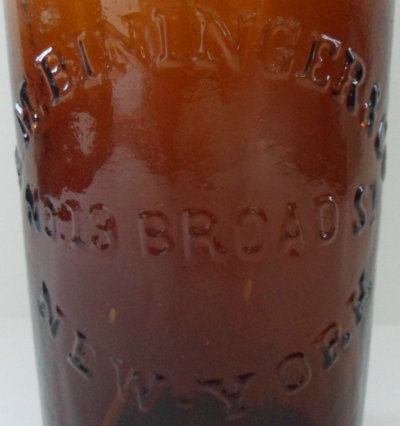 Below are some copies of A. M. Bininger labels.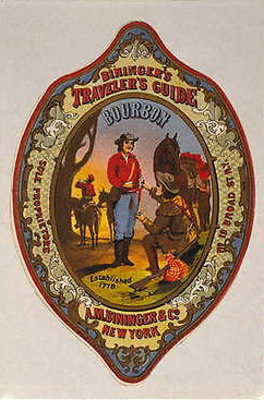 . 1859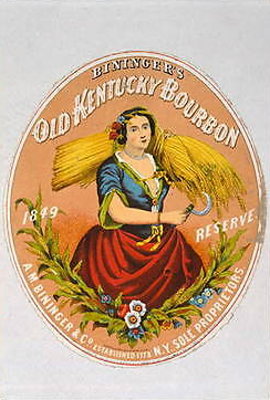 . 1860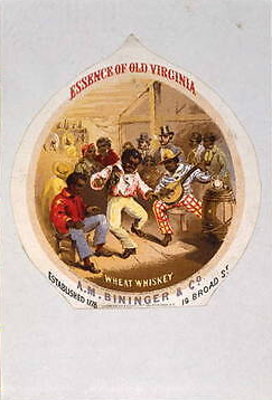 . 1859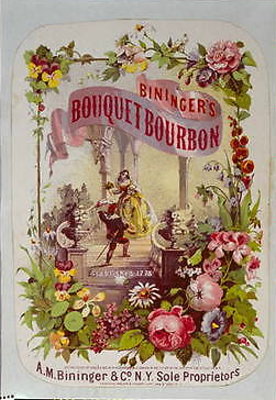 Below a advertisement from 1859.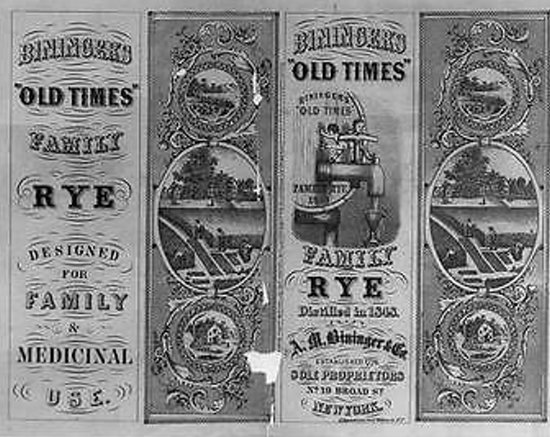 Below is a label for there TANGIN TONIC.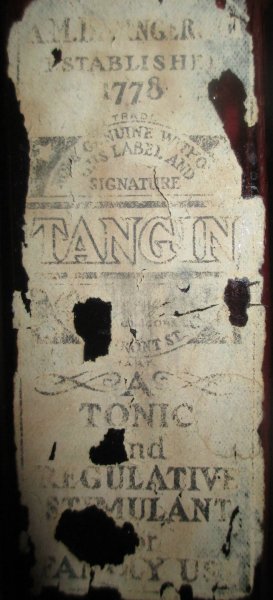 References:

Don Keating article in the AB&GC.

Copies of labels Ebay.

Frank & Frank Jr. Bottle Collection.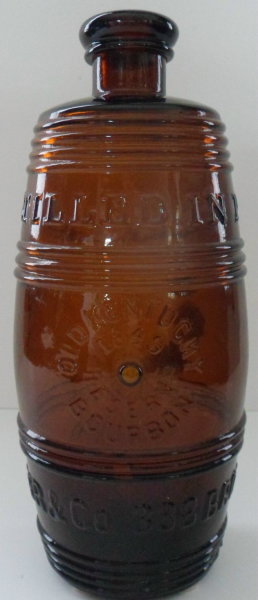 .