JOHN H. SCHROEDER: WOODCOCK PEPSIN BITTERS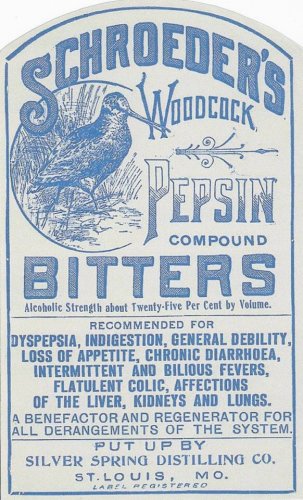 John H, Schroeder was born in Oestnerbroeck, Germany. He would imigrate to New York in 1862. He would join the Union Army and serve for two years. In 1865 he would relocate to South America for a few years were there he would engage in various commercial lines. When he return back to the United States he would end up in New Orleans were he would engage in a sugar refining business for a few years. Then he would move to Winconsin were he was involved in a lumber business before ending up in St. Louis. Here he was involved with the First Match Manufacturing Company. In the 1880 U.S. cenus he was listed as a grocer . In 1885 he went into a liquor business. He would pass away in 1917.
He and his wife would have 10 chirldren which two were in volved in the liquor business, Henry P. and Joseph C. Schroeder.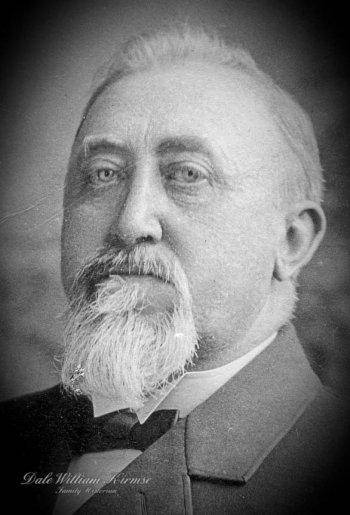 The first listing for his business was in 1885 and was listed as John H. Schroeder until 1900. There is a listing for the John H. Schroeder Wine & Liquor Co. in 1902.
Some of his brands were Old Schroeder Rye, St Louis Derby and Woodcock Pepsin Bitters.
The address time was 523 Walnut Street (1885).
322N 2 nd (1887-1891).
201 Market (1892-1898).
201 N. Main (1900).
1418 Franklin Ave, (1902).
810-812 second Street (1904).
Below is a John H Schroeder / Woodcock Pepsin Bitters. In a dark amber color. Listed as very rare. There are several variants with different embossing.
Woodcock Pepsin Bitters was awarded first premium and highest diplomas at the the St. Louis Fair in 1897 and 1901. Also at the Tri State Fair in 1897.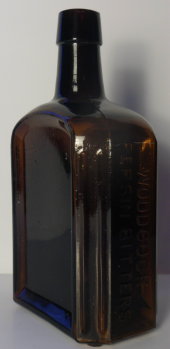 Below is a 5 cent token for Woodcock Bitters.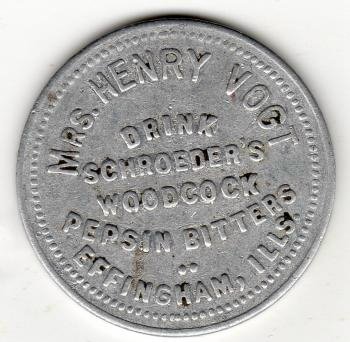 The token above was a soloon token for Mrs. Henry Vogt Drink Schroeder's Woodcock Pepsin Bitters Effingham, Ill.
Ther is another soloon token from Saint Genevieve, Missouri. Also advertising Woodcock Pepsin Bitters.
References:
www.prepro.com.
Grandma Kirmse's Album: John H. Schroeder.
www.tokencatolog.com.
The Wine and Spirt Bulletin Vol. 18 January 1, 1904
Frank & Frank Jr. Bottle Collection.