JOHN SPIEKER & TITO M. LASH : LASH'S BITTERS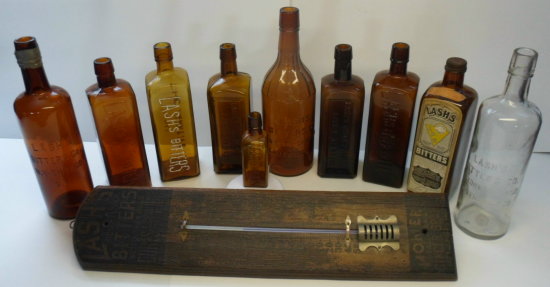 Company time line 1884 to 1966. A pharmacist John Spieker was born in 1855. At the age of twenty he would locate to Sacramento, Cal. in 1875. In 1876 John would partner with A. C. Tufts and start producing a medicine called Yerba Santa Cough Balsam.
In 1884 John would form a new partnership with pharmacist Tito M. Lash. They would call the company T.M. Lash & Co. They would start manufacturing Lash's Kidney & Liver Bitters. Along with Homer's Kidney & Liver Cure, Lash's Magic Liniment, Lash's Wild Cherry Tonic, Lash's Honey of Horehound & Tar and Lash Root Beer.
Tito was in charge of finding new clients and John was the manager of the medical products and treasure. In 1889 Tito would find accounting problems in the company books which lead to the partnership to be terminated. Around ten day later John would buy out his former partner Tito along with the rights to the products.
John Speaker established a new company called Lash's bitters Co. and continued to manufacture Lash's Bitters and Homer's Kidney & Liver Cure. The company move to San Francisco in 1893 and would incorporate in 1894. In 1901 he would open an office in Chicago and in 1904 an office in New York. The business must have been doing good, he would purchase the rights to Peruvian Bitters and would place a Lash's Bitters label on it. He purchased the rights from J. C Wilmerding and Calvin W. Kellogg. He also had a brand called Toneco Bitters.
The company proclaimed "Lash's Bitters is a prominent medicine, claiming to cure Biliousness, Malaria, Dyspepsia, Indigestion, Headache, Sour Stomach, Neuralgia, Back Pain, and all afflictions of the Kidney and Liver."
George M. Pond was the manager of the Lash's Bitters Co. at the Chicago office. He would leave the company and start his own Bitters Company. It was called the Pond Bitter Company and George would produce this brand for the next fifth teen years in Chicago.
John Spieker died in 1914 at the age of fifty nine years old. His wife Cornelia would become manager of Lash's Bitters Co. and son Warren Spieker would become president of the San Francisco office. During prohibition they changed to making soft drinks. The New York office closed in 1930 and the Chicago and San Francisco offices closed in 1934. Now the office and manufacturing was at Anaheim where they continued production through 1943. Lash produced beverages at their Passaic New Jersey Bottling Works which open in 1925 through 1966.
Below are some of their Bitters bottles.
LASHS KIDNEY AND / LIVER BITTERS // THE BEST CATHARTIC / AND BLOOD PURIFIER
LASH'S BITTERS // NATURAL / TONIC LAXATIVE
LASH'S / KIDNEY AND LIVER / BITTERS// THE BEST CATHARTIC / AND BLOOD PURIFIER
LASH'S LIVER BITTERS //NATURE'S / TONIC LAXATIVE

LASH'S / BITTERS CO. / NEW YORK-CHICAGO / SAN FRANCISCO, CAL. (back bar bottle)

LASH'S / BITTERS CO. / NEW YORK-CHICAGO / SAN FRANCISCO

LASH'S / BITTERS CO. / N. Y.-CHICAGO / S. F.
TONECO / STOMACH BITTERS // APPETIZER & TONIC (Lash's Bitters Co.)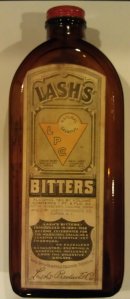 . LASH'S BITTERS LABLE ONLY

PERUVIAN / BITTERS (P.B CO. mongram in shield) This would have had a Lash's bitters co. label.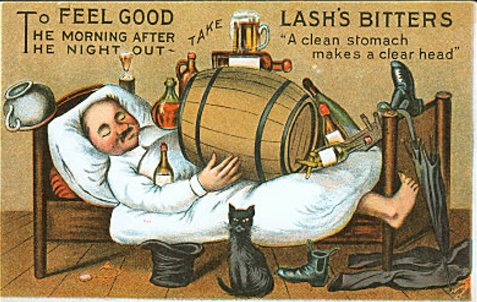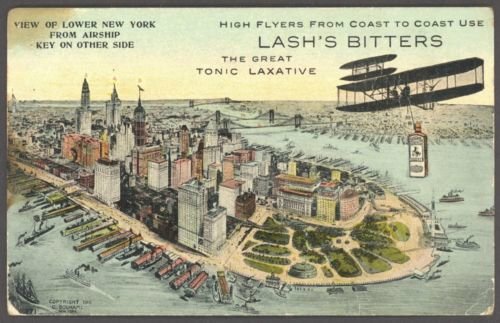 LASH'S trade card. There were many different trade cards produced.
Below is a advertizement cribbage game.

Below are some wood boxes from this company.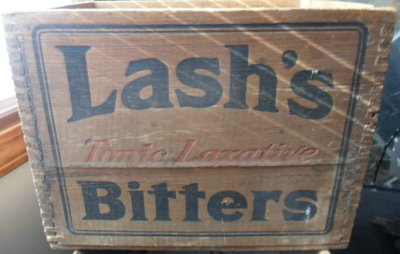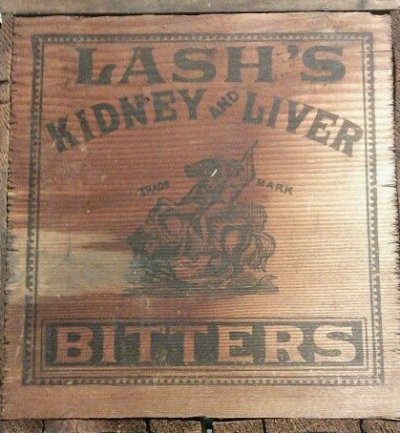 .Both courtesy of ebay.
Below is a ice chipper with Lash's Natural Tonic Laxative.

A Lash's Bitters Co. Copper Funnel.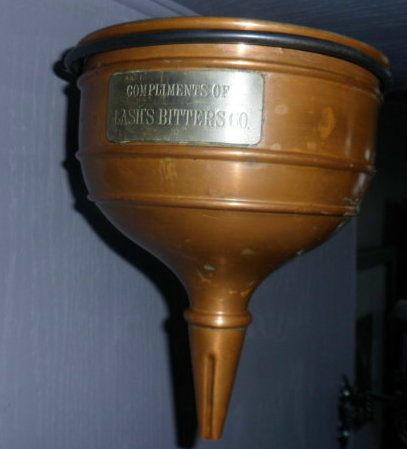 Bottle & Extras 2003 Donald Yates ( Pharmacy in History Journal Vol. No. 1 2001 Lash Bitters.)
Bitters Bottles By Carlyn Ring & W.C. Ham.
Frank & Frank Jr. (Wicker) Bottle & Paper Collection.