Milton Marion Fenner : Capital Bitters
Milton Marion Fenner was born on the 28th July 1837 in Stockton, New York. On the 22th of May 1860 he received a Medical Degree from the Eclectic Medical College of Cincinnati, Ohio. He moved to Flint, Michigan were he would start a practice. With the Civil war ready to start he would enlist as a private with the Co. A 8th Michigan Rgt. In October of 1862 he was promoted to First Lt. and by May of 1863 he was Commissioned Assistant Surgeon with the U.S. Navy. In the spring of 1864 he located to Jamestown, New York were here he would start another practice as a Eclectic Medical Doctor.
Milton would get married in June of 1866 to Louisa Georgiana. Three years later he would move again this time to Fredonia, New York were he would start again another practice this time located at 2 West Main St. In the same year he was appointed Fredonia's Physician to the poor. Dr. Fenner had devised a questionnaire which could be sent to any patient who was unable to visit the office. From the questionnaire he would diagnose the symptom and prescribe medicine and send it by the mail. By 1872 "The Fredonia Censor from Feb. 7 1872 said he was going into the manufacturing of his family remedies for wholesale trade."
Dr. Fenner would end up having thirty two kinds of products bearing his name along with thirty five other medical and flavoring products. He also distributed a very popular almanac called Peoples Remedies. The doctor was very successful and would start the Buffalo Mutual Life and Reserve Ass. Dr. Fenner would die in 1905 at the age of sixty eight. He started making his Capital Bitters on the 14th of May 1873.
Below is a photo of this bottle. Dr. M. M. FENNER // CAPITAL BITTERS // FREDONIA, N. Y. There are five different sizes of this bottle ranging from 8 7/8 inches to 10 11/16 inches.
Below are some trade cards for this product.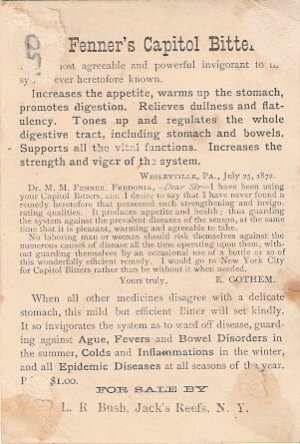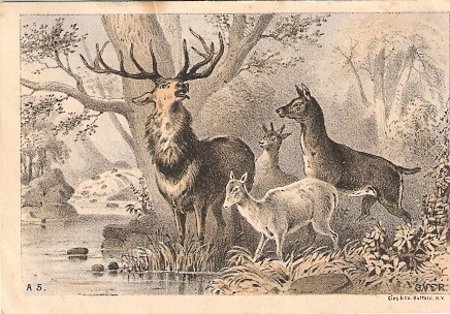 Below is a Dr. M. M.Fenner's Backache Cure bottle.

Below is a Dr. Fenner Blood & Liver Nerve Tonic.

References:
Darwin R. Historical Museum Fredonia, N.Y. by Douglas H. Shepard.
Bitters Bottles by Carolyn Ring & W.C. Ham.
Frank & Frank Jr.(Wicker) Bottle Collection.