CORNELIUS F. ABBOTT : MORNING STAR BITTERS
In the 1850s Cornelius F. Abbott owned a tobacco store in Baltimore, Maryland and also he was a shingle maker. He started selling Morning Star Bitters around 1865 and was located at Charles St. in Baltimore. By 1872 Cornelius would become the manager of the Common Wealth Life Insurance Company. C. W. Abbott who was Cornelius son would take over Bitters Company in 1878. By the 1880s C. W. added Abbott's Oyster Shell Remedy and Angosturia Aromatic Bitters. These bitters would become very popular. Below is a photos of their Morning Star embossed (Patented / 5869 // MORNING (STAR) BITTERS / INCEPTUM 5869 (meaning May 8 1869). The bottle is 13 inches tall and triangular shape. These bottles were made with an iron pontil or smooth base. The example below is a smooth base.
.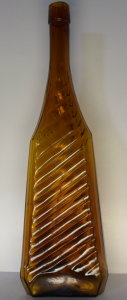 .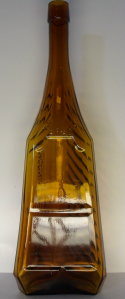 Below are a photos of their very common ABBOTT'S BITTERS.
References:
Dr. Cannon Article Medicine Chest in the April 2012 ABG&C.
Bitters Bottles by Carlyn Ring & W. C. Ham.
Frank & Frank Jr.(Wicker) Bottle Collection.