HEMINGRAY GLASS COMPANY : GLOBE FRUIT JARS
The Hemingray Glass Company made all kinds of products out of glass. The name Hemingray which was embossed on several styles their famous insulators was not the only items they made. The company would also produces oil lamps, water bottles, many kinds of depression glass items, many bottles embossed on the base H. G. CO. along with several kinds of fruit jars.
Here is a brief history of the company. In 1848 Robert Hemingray and Ralph Gray would partner in Cincinnati, Ohio. By 1852 the two partners would move their firm across the Ohio River to Covington, Kentucky. The Companies name was Gray, Hemingray & Bro till 1860. Ralph Gray would die in 1863 and by 1864 the firm name changed again to Hemingray Bros. & Co. By 1870 the Company would incorporate and was now called the Hemingray Glass Co. Inc. In 1888 Hemingray opened a second plant in Muncie, Indiana. Around 1890 Hemingray would close the Covington plant but may have had to reopen the plant in 1892 because of a disastrous fire which accrued at the Muncie plant. By 1933 Hemingray Glass Co. was sold to the Owens-Illinois Glass Co. The Muncie plant was operated as the Hemingray Division. The last Hemingray insulators were made at Muncie in 1967 and in 1972 the Owens-Illinois Muncie plant would close.
The company made several kinds of fruit jars but the most famous of them was the Globe jar. The Hemingray Glass Co. acquired a patent on May 25 1886. The jar was designed to compete with the Lightning jar. The glass lid has a dimple in the middle of the glass lid were a metal cam rests in when the lid is in the closed position. These jars come in three common sizes 1 pint, quart, and a half gallon. There are two sizes which are extremely rare, the ½ pint and the ¼ pint jars. The colors come in clear, aqua, sca and amber along with shades of amber ranging from yellow, citron. honey amber, olive green, yellow green and almost black.
Below are photos of different colors and sizes of Globe jars. The bases are embossed with different mold numbers. The Globe jar also comes in a wide mouth version.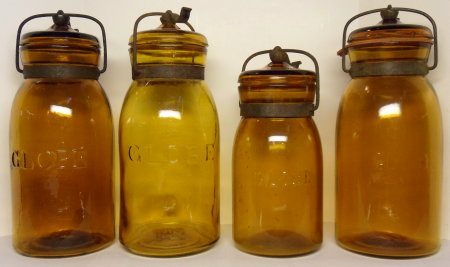 Below is a photo of a Hemingray / Patent / June 17 1890 / May 2 1893 insulator.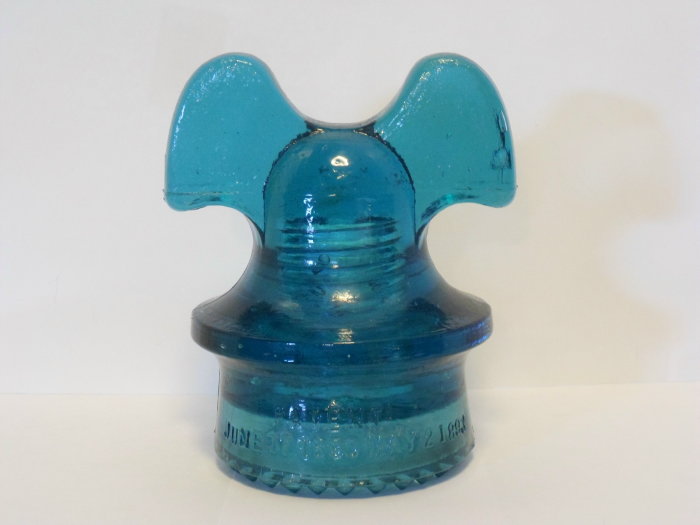 Below is a ad for Globe Fruit Jars.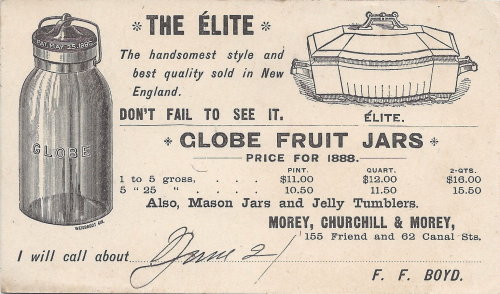 References:
The Brief history of Hemingray Glass Company.
Frank & Franky (Wicker) Bottle & Jar Collection.