EMANEL THOMAS LYON: KATHAIRON FOR THE HAIR
Emanel Thomas Lyon was born in Germany in 1815 and immigrated to American. In the 1840s he would graduate from New Jersey's Princeton College and start working as a chemist in New York City. Sometime in the later 1840s he would start a drug manufacturing business located at 161 Broadway Street in New York City. He concocted several products. His primary product was his Magnetic Power which was for pest control. He also made his Essence of Jamaica Ginger and Kathairon for Hair. All three products were made before 1852. Another product he made was Lyon's Indian hair Dye. Below are photos of his Kathairon bottle. It is embossed Lyon's // Kathairon // For The Hair // New York and a add from the 161 Broadway address. There are five variants of this bottle. The bottle in the photos is the earliest of the five.

Sometime after 1852 Emanel Lyon would work for Demas Barnes as a chemist. Demas Barnes was a whole sale druggist and by 1854 to 1856 was the proprietor of Kathairon For The Hair. Below is an ad from the Bemis Barnes Company.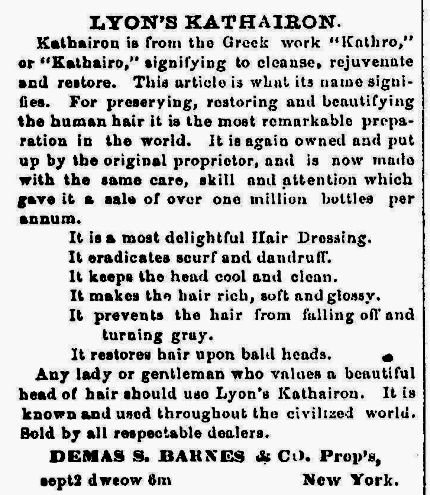 In 1857 the Heath Wywcoop & Company would take over and now become the sole proprietor of Kathairon For The Hair till 1860. Below is an ad from this company.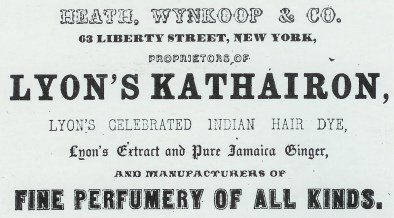 Emanel Lyon would die in 1858. From 1860 to 1871 Kathairon was prepared by Demas Barnes again. Then in 1871 the Lyon MFG Co. was formed. The Lyon MFG CO. Resisted the brand name "Kathairon" as a trade mark in 1893. The product was made till shortly after 1906. Kathairon would contain up to 76.25 alcohol content. Below is an ad from the 1890s along with a trade card.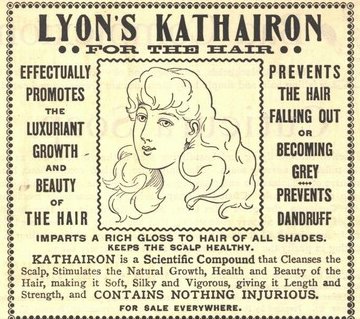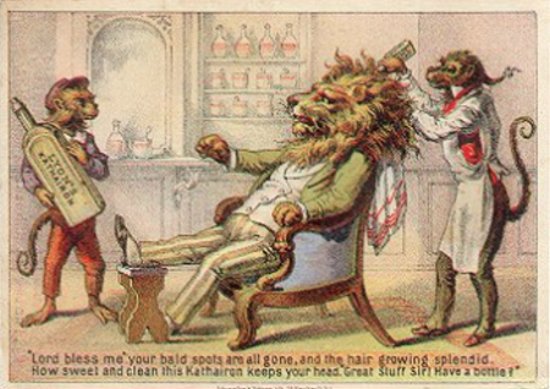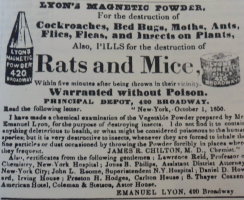 Above is a add from the early 1850s.
Kathairon is from the Greek word signifying to cleanse, rejuvenate and restore.
References:
http://www.hairraisingstories.com/
Frank & Frank Jr. (Wicker) Bottle and Paper Collection.