W. T. RAWLEIGH: MEDICINE PEDDLER
In April of 1889 an eighteen year old Will Rawleigh would become a door to door medicine peddler. Within three years he had paid for a new wagon and a good horse. All his freight and living expenses along with a new furnished home. By 1892 his net worth was $5000.00 dollars which was quite a bit back then.
W.T. Rawleigh would start the W.T. Rawleigh Med. Co. in Freeport, Ill. By 1916 Rawleigh became ill and was admitted to the famous Battle Creek Sanatorium of Michigan. Here he developed his health philosophy of prevention which launched research into Vitamin supplementation. Here he experienced a miraculous recovery aided by the institution's philosophy of " Back to Nature".
The company grew at a rapid rate. Rawleigh had built the biggest manufacturing organization in the world at that time. In 1931 the firm set up a business in Australia. Besides medicines the company sold spices, seasonings, oils and salves. Generations of Australians, Canadians and Americans grew up waiting for the Rawleighman to arrive at their front door.
Below is a photo of what I think is one of the earliest Rawleigh bottles made. Is embossed TRADE RAWLEIGH MARK // W. T. RAWLEIGH MED. CO. // FREEPORT, ILL.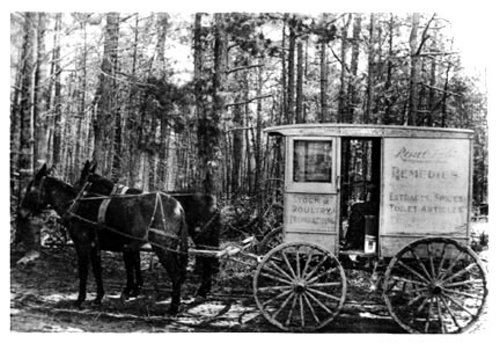 Above is a photo of his peddler wagon. There are many different bottles by this company. The Rawleigh Company is still in business today making quality products for their costumer's.
Below is a Rawleigh Mustard Ointment Compound.
Below is a photo of a Rawleigh's Quinine Scalp and Hair tonic Bottle. This bottle is 7 inches tall and has a crown glass stopper.

References:
http://rawleigh.net/Rawleigh_History.htm
Frank & Frank Jr. (Wicker) Bottle Collection.