DR. OLIVER CROOK : DAYTON OHIO MEDICINE NEW UPDATE
Dr. Oliver Crook was born in Wayne Township Montgomery County Ohio. August 14 1818. He would attend lectures at the medical department of the University of New York graduating there in 1847. After graduating he would start a medical practice in Dayton, Ohio the same year. He went in partnership with a Dr. Kogler for a few years and then with his brother Dr. James Crook. His brother James would die in 1855. After his brother's death Oliver would practice medicine alone. At some point Dr. Oliver Crook would give up his practice and start manufacturing his patent medicines in Dayton. He would start the Oliver Crook & Co. and started manufacturing his Wine of Tar in 1868. This medicine was for the Throat and lungs along with kidney complaints and other ailments. Dr. Crook would die in April 28 1873 of an abscess in the right lung. December of 1875 was the last year for a proprietor die stamp for the Dr. Crook & Co. company.
In 1875- 1883 the Dayton City Directories lists S. N. Smith & Co. as the proprietor of Dr. Crook's Wine of Tar until 1883. John D Park would run the company. The proprietor Die Stamp is the same with the exception of the companies name which is now S. N. Smith & Co.
Below are photos of his DR. CROOK's // WINE OF TAR aqua in color with a applied top. The base is embossed A & DHC.
Above is a photo of two ads for his Wine of Tar. The second ad is from a Illinois newspaper from 1880. The company name on the ad is S. N. Smith & Co.
Below is a Dr Crooks booklet.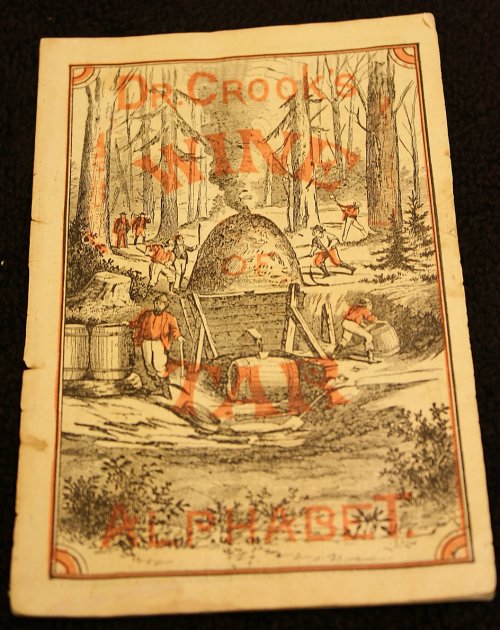 Another product the company produced was Dr. Crooks / Compound // Syrup of Poke Root. Also a very rare open pontil bottle embossed O Crook MD // Vegetable / Extract // Dayton, Ohio. This medicine is likely produced before he started Crook & Co.
Above is a photo of his Dr. Crook die stamp.
References:
The 1873 Dayton Journal. History of Dayton, Ohio.
1889. Osage Valley Banner June 24 1870 Ill.
Dayton City Directories 1875 -1883
Dr. Cannon Medicine Chest Article.
Frank & Frank Jr.(Wicker) Bottle Collection.