There is very little information about this bitters bottle. It's from the St. Jacob's Bitters Co. Cincinnati, Ohio. This bitters was trademarked in December of 1882. The photo below of this square amber SAINT JACOB'S BITTERS is a unlisted variant. The bottle has an unmarked base and is not embossed with KYGW Co. or MC C.

Some new information has come to light from a trade card and an advertisement. Still incertain if J. Falke & Co was the manufacturer of Saint Jacobs Bitters. The Ringham also list a St. Jacobs Bitters which is a decantor.
Here is a little about Julius Falke. He was born in 1841.
The J. Falke & Co. is listed in the 1881 St Louis City Directory as a manufacturer and impoter of Perfumery, Excelssior Pure fruit Flavoring Extracts, Carmine and Violet Inks, Olive oils He was also manufacturer of Kah-Kas-Kee hair Restorstive and Eureka Safe Hair Dye. The firm was located at 505 Walnut street St Louis. He had a partner named Gustavus Heidel.
In 1882 the firm had manuals for Barbers and Hair-Dressers.
On June 12, 1883 Julius Falke had a patent granted for St. Jacobs Bitters.
The firm was listed in the St. louis Directory as Pat. Med. in 1886.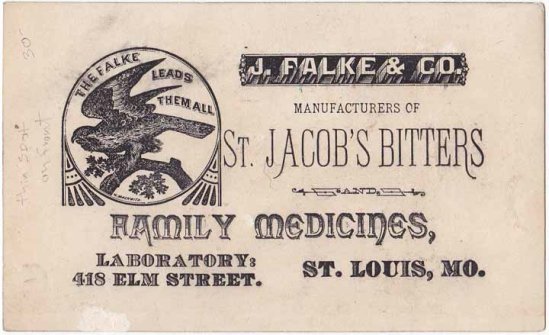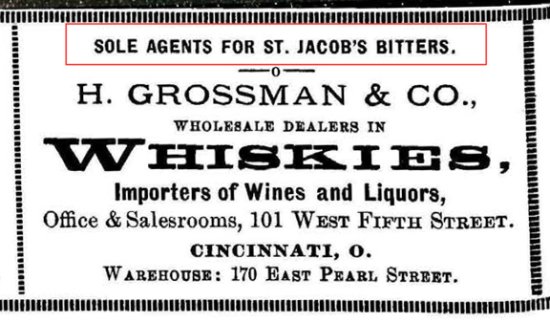 The ad above is from an 1885 Cincinnati Directory.
References:
Bitters Bottle by Carlyn Ring & W. C. Ham.
Frank & Frank Jr. (Wicker) Bottle Collection.