C. H. SWAIN'S : BOURBON BITTERS
Dr. C. H. Swain was the proprietor and manufacturer of his Bourbon Bitters. He was located at 34 South Water Street Chicago, Illinois. He also had a branch office located at 375 Broadway Street New York City. An advertisement claimed that his medicine was a healthy tonic gentle stimulant. Below are photos of one of three variants of this square bottle with a slight tapper. Its embossed C. H. SWAINS // BOURBON BITTERS along with an advertisement from 1864.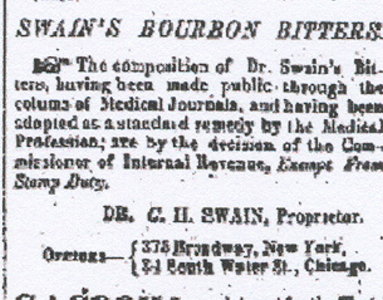 The two other variants are C. W. SWAIN'S // BOURBON // BITTERS and C. H. SWAIN // BOURBON // BITTERS.
References:
Dawson Fort Wayne Daily Newspaper Sept. 20, 1864.
Bitters Bottles by Carlyon Ring & W. C. Ham.
Frank & Frank Jr. (Wicker) Bottle Collection.