WILLIAM F. ZOELLER: BLACK GIN FOR THE KIDNEYS
William F. Zoeller was born in 1860 on the south side of Pittsburgh, Pa. Williams F. Zoeller father John Zoeller who is listed as a tavern keeper in 1870 and in 1874 as a saloon keeper. The saloon was located on the corner of Sarah and 19th street. At the age of 21 years old William F. Zoeller started working with his father at the saloon. Between 1881 and 1886 while working with his father. He was a clerk, bar tender and a book keeper. In 1887 William engaged in wholesale liquor business located at 1807 Carson St. while also being a druggist there. Between the years of 1890 to 1893 he was listed in the category of Patent Medicines and was making Bitters. These are the years when he would make BLACK GIN / FOR THE KIDNEYS // Wm F. ZOELLER / PITTSBYRGH, PA.
Below are photos of this bottle and two advertisements that come from the July 07 1890 and the September 02 1893 Titusville Herald Newspaper. Notice that the add calls it a Stomach Bitters that is a sure cure for Dyspepsia Liver Complaint
It is also believed (the first add mentions Swiss Bitters) that he made the bitters RH# 243 SWISS / STOMACH / BITTERS // THE ZOELLER / MEDICAL CO. / PITTSBURGH, PA. and RH# Z7 ZOELLER'S / STOMACH BITTERS // THE ZOELLER / MEDICAL CO. / PITTSBURGH, PA. and WILD CHERRY TONIC / WM. F. ZOELLER PITTSBURGH, PA. and ZOELLER'S / KIDNEY REMEDY // THE ZOELLER / MEDICAL CO. / PITTSBURGH, PA. This remedy product was advertised in several editions of the Pittsburgh Press in July 1909.
Below is a photo of a square amber bottle embossed Zoeller Medical MFG. Co Pittsburgh, Pa. USA.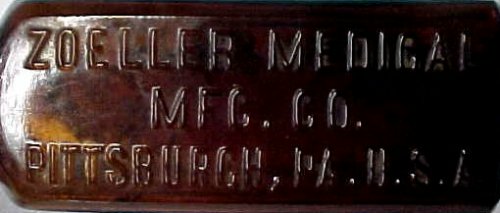 William F. Zoeller would be listed as a wholesaler of liquor and retailer from 1887 to 1909 being at the same address 1807 Carson St. One of the brand name used was O.B.C. By 1911 he would go in partnership with Strawinskas know called Zoeller & Strawinskas located at 215 Summit St. By 1912 its listed that William was the president of Zoeller Med Drug Co. In 1920 William at the age of 60 was an assessor for Allegheny County.
Below is a trade card.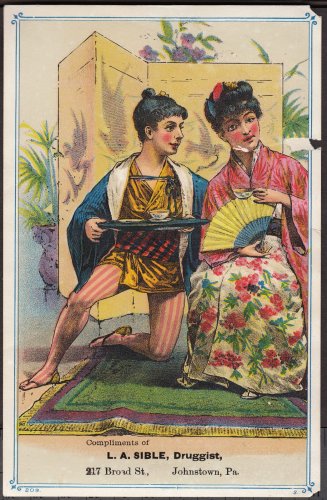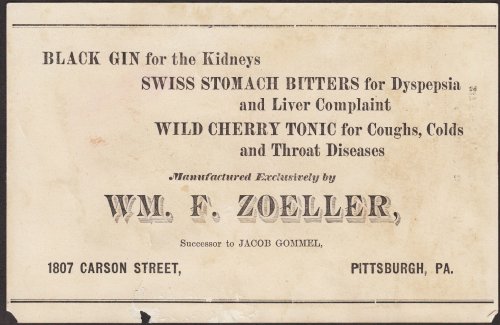 References:
Pittsburgh & Allegheny City Directories.
Pittsburgh & Allegheny Business Directory.
Frank & Frank Jr. (Wicker) Bottle Collection.