HALL'S & AYER'S -- GET THE GRAY OUT
Here are two interesting hair bottles. Both are common bottles in stand out colors. The first one is a Hall's Hair Renewer in a cool color of teal blue green with matching color stopper. The bottle is bluer in the photo. Reuben P. Hall started selling his Vegetable Sicilian Hair Renewer around 1864. The renewer was invented to renew the hair to its natural color. The formula was made up from water, glycerin, lead sugar, sulfur, raspberry leaves, tea, and oil of citronella. Later on raspberry leaves, tea and oil of citronella was drop from the original formula and Jamaica rum and bay rum and salt was added. In 1870 Hall's major competitor James C. Ayer would buy him out but would continued to sell the brand along with his own brand Ayer's Hair Vigor .Below is photos of the Hall's Hair Renewer bottle along with some of his trade cards.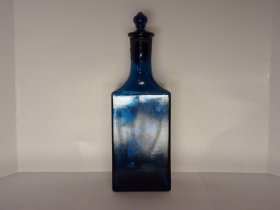 James C. Ayer would work and study pharmacy and chemistry at the Robbins Drug Store in 1838 in Ledyard, Conn. for three years. He would also study a curriculum from Harvard College but never attended the college. He also studied medicine with Dr. Samuel Dana in Lowell, Mass. Later in his life he was awarded a degree "Doctor of Medicine" from the University of Pennsylvania. James Ayer in 1841 would buy out the drug store that he work at and started producing his own remedies. He would become very successful selling his family remedies eventually owning his own factories. He also had investment in sawmills in Florida and Iron Mines in Michigan. One of the remedies was Ayer's Hair Vigor with he would start selling in 1865. He would buy out his major competitor Hall's Hair Renewer. The James C. Ayer Co. would distributed free farmers almanacs for his retailers. They also would advertise there products and discussed the diseases they cured. The composition for Ayer's hair vigor was cream of tartar, glycerin, lead acetate, caustic soda and water. The formula did change frequently throw the years. The color of the bottle is cobalt with a cobalt stopper. The height of the bottle is 6 ½ in. with out the stopper. Below is a photo of the bottle with the label along with a trade card.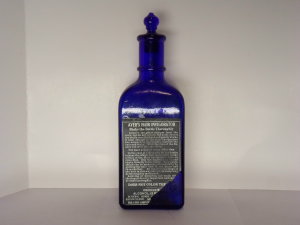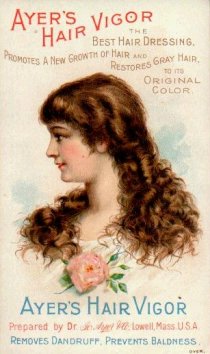 Both products contained lead in there formula. Both products were discontinued in the 1930s.
References:
The National Cyclopedia of American Biography.
Frank & Frank Jr. (Wicker) Bottle Collection.