BENJAMIN MISHLER & S. B. HARTMAN: MISHLER'S HERB BITTERS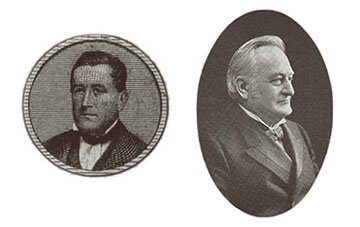 Sam & Ben.
Benjamin Mishler had a brewing business around 1855 when he concocted a popular medicine he called Mishler's Herb Bitters. Dr. Samuel Brubaker Hartman would purchase the firm from Benjamin Mishler around 1867. He would become the sole proprietor of this bitters. The firm included Junius Kauman and Henry Lehman who was the manager. Benjamin Mishler would join his son Henry Mishler in Producing H. L. Mishler's Keystone Bitters. This product was trademarked in April 1871. This firm was located at 17 W. King Street Lancaster, PA.
Dr. S. B. Hartman would also trade mark Mishler's Herb Bitters in April of 1871. By 1879 the company reorganized as Mishler's Herb Bitters Company. The company had two locations one in Pittsburgh and the other in Lancaster, PA. There are many variants of these bottles along with colors ranging from shade of yellows, ambers and greens. You can gather quite a collection of these bottles.
Below is a ad from the 1863 Gopsill's Directory of. Lancaster, PA.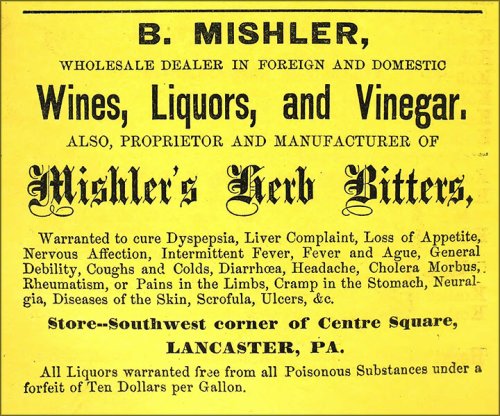 Below are just two of these bottle the first one is embossed Dr. S. B. HARTMAN & CO. // TABLE SPOON GRADUATION // MISHLER'S HERB BITTERS ( base embossed STOECKEL S. GRAD
The above bottle is embossed MISHLER'S HERB BITTERS // TABLE SPOON GRADUATION // MISHLER / (peened out DR. S. B. HARTMAN ) / HERB BITTERS.
Below are some trade cards.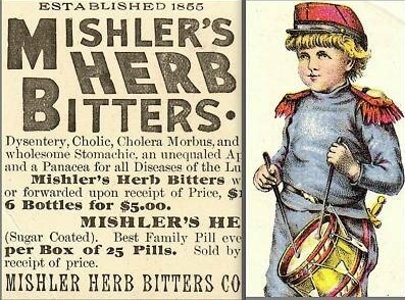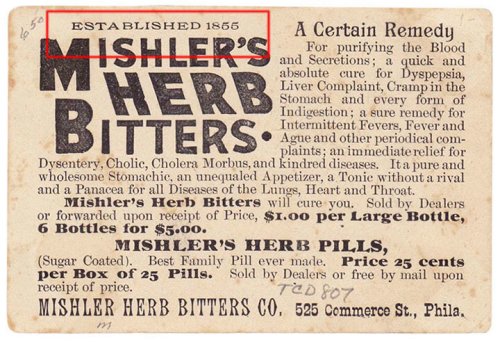 References:
Bitters bottle by Caryln Ring & W. C. Ham.
Frank & Frank Jr.(Wicker) Bottle Collection.