CYRENIUS C. BRISTOL : GENUINE SARSAPARILLA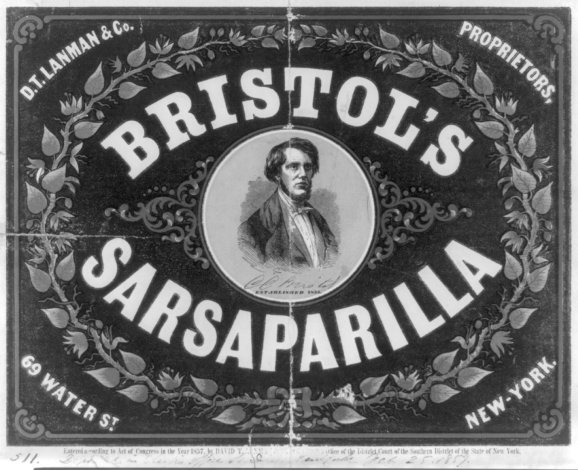 Above is a photo of an advertisement poster for Bristol's Sarsaparilla from 1857. It shows C. C. Bristol with filigree of sarsaparilla plants. Courtesy of the Library of Congress.
The information below was presented to the University of Rochester Library by Mrs. Robert Pierson May 6, 1946.
"Cyrenius C. Bristol was a descendant of one of the earliest families of Buffalo, NY. A well-known chemist and druggist, he was the maker of the famous extract of sarsaparilla. In 1838 he published Bristol's Gazette and Herald of Health, a monthly that was discontinued in 1842. The following year he published Bristol's Free Almanac, first in Batavia, NY, and then in Buffalo. In 1848 it became Bristol's Sarsaparilla Almanac. From 1854 to 1861 C.C. Bristol was owner and publisher of the Buffalo Republic".
"The Cyrenius C. Bristol Papers contain 9 autograph manuscript letters from Horace Greeley to C.C. Bristol, dated 1840-1868, including 1 letter from Greeley to C.C. Bristol's daughter, Maria Bristol (who later became Mrs. Lafayette Rogers). During this time, Greeley was involved with several small newspapers, including the New Yorker, Brother Jonathan, New World, and The Log Cabin (several advertisements for "Bristol's Sarsaparilla Extract" appear in the 1840 weekly issues of The Log Cabin). The letters from Greeley to Bristol deal largely with problems of newspaper publishing, but also reflect a personal friendship between the two men. There are also 2 autograph manuscript letters written to C.C. Bristol by Charles A. Dana, who in 1846 became the city editor of the New York Tribune, a publication launched by Horace Greeley in 1841".
The Bristol Sarsaparilla Company was established in 1833 and had two locations. There were 225 Main Street Buffalo, New York and 34 Cortlandt Street New York City. At some point David T. Lanman would become the sole proprietors and manufacturers. The company now would be called D. T. Lanman & Co. This firm was located at 69 Waters Street New York City. Below is an advertisement ink blot for Bristol's Sarsaparilla from Lanman & Kern.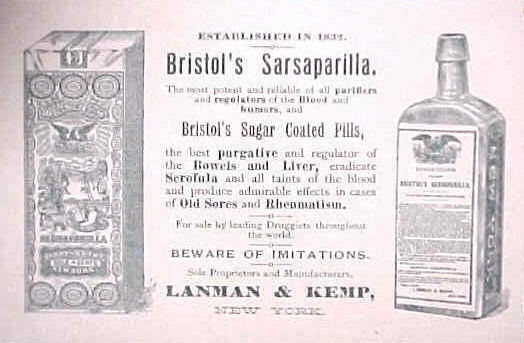 I am not sure when Kern join The Company. There is an advertisement from the Hamilton Evening Times from August 24 1864 stating that.
"Bristol's Sarsaparilla in large quart bottles. The great purifier of the blood and the only genuine and original preparation for the permanent cure of the most dangerous and confirmed cases of Scrofula or King's Evil, Old sores, Boils, Tumors, Abscises and Ulcers".
Another name for Scrofula in adults is tuberculosis.
Below are photos of the BRISTOL'S / GENUINE SARSAPARILLA / NEW YORK. This bottle is 10 ½ inches tall and has a smooth base. There also are iron ponil examples which are quite rare.
Below are photos of a 5 1/2 inch tall BRISTOL'S // EXTRACT OF / SARSAPARILLA // BUFFALO. Pontiled.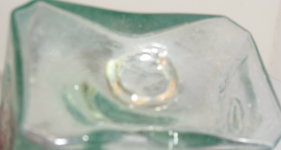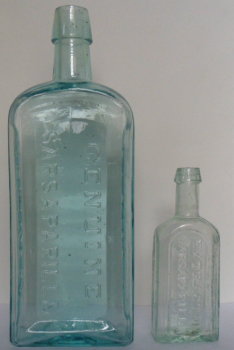 This company also produced C. C. Bristol Hair Regenerator Buffalo which had an open pontil.
References:
Congress of Library Prints.
The Cyrenius C. Bristol Papers University of Rochester Library (River Campus) by Mrs. Robert H. Pierson May 6, 1946.
Hamilton Evening Times August 24, 1864.
Frank & Frank Jr. (Wicker) Bottle Collection.