HAZEL - ATLAS GLASS CORPORATION : FRUIT JARS

The Hazel Glass Company was started by two brothers Charles N. Brady and C. H. Tallman in 1885 in Wheeling, West Virginia. In the beginning the company made glass inserts that fit inside the zinc lid. By 1886 the companies' business flourished and they expanded into a new facility in Washington, Pennsylvania. At this time besides the mason jar liners they added opal colored ointment jars and salve boxes.
The company continued to grow rapidly adding more manufacturing plants. The Hazel Glass Company formed a division called Atlas Glass Company to meet its fruit jar production. A third company was formed called Republic Glass Company. This company made pressed tumblers from newly developed automatic presses. By 1902 the Hazel Glass Company and the Atlas Glass Company joined together with the Republic Glass Company and the Wheeling Metal Company and formed the Hazel - Atlas Glass Corporation.
The company had manufacturing plant in parts West Virginia, Pennsylvania, Indiana, Illinois, Michigan, Ohio, Oklahoma, Alabama and California. The company also had sales offices in New York, Baltimore, Chicago, Philadelphia, Rochester, Cleveland and San Francisco.
Below are just a few of the many jars the company produced. You can collect quit a very large collection of these jars at very affordable prices. They also come in many different shades of color. Here are the two most common colors of these jars. They come in aqua and in clear glass. These jars are embossed Atlas E-Z Seal.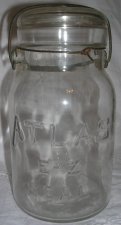 ...........................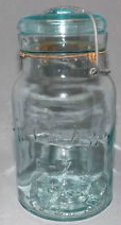 Above are some jars in not so common of colors.
Below is an Atlas Strong Shoulder Mason fruit jar with a lined zinc cap in a light olive green and strong cornflower blue color. Along with a 1 pint yellow olive w/amber.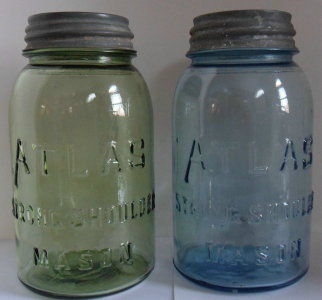 .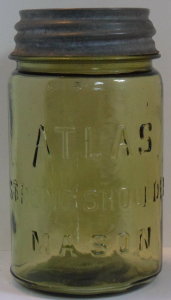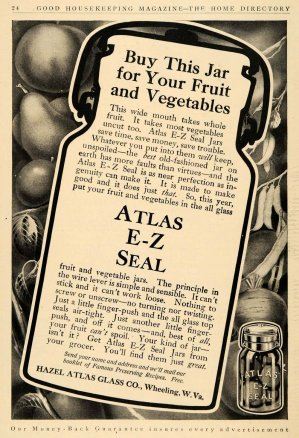 .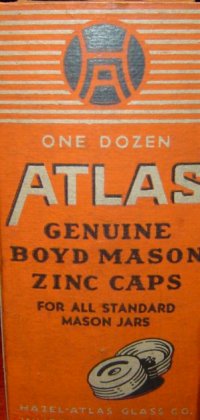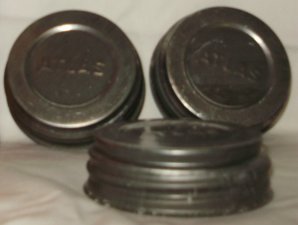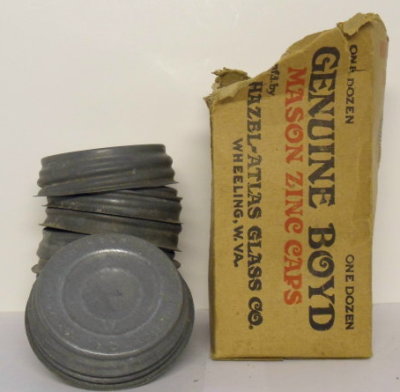 Above is an ad for the Atlas E-Z Seal jar and a box of Lined zinc lids along with lids that are embossed Atlas.
The company would also produce all kinds of kitchen glass ware in an assortment of colors. By 1956 the Hazel Atlas Glass Corporation became Continental Can and by 1964 the company sold to the Brockway Glass Company.
References :
West Virginia Historical Society
www.wvculture.org/history/
Colored Glassware of the Depression Era by Hazel Marie Weatherman.
Frank & Frank Jr. (Wicker) Fruit Jar Collection.