MOSES ATWOOD : JUANDICE BITTERS

Moses Atwood was born in Thornton Cove Grafton County, New Hampshire on April 24 1810. At the young age of sixteen he began studying medicine with Symmes Sawyer who was a practicing doctor in Woodstock, New Hampshire. In 1834 he married his first cousin Mary Atwood. They would have eight Children born in Woodstock. In 1840 he would move his family to Georgetown Mass. At the age of 30 years old he entered the patent medicine business. The product they manufactured was his Jaundice Bitters known as Atwood's Bitters. His oldest son Moses Jr. would join in his father in the business.

In 1850 the Federal Census lists Moses as a Botanist along with his business partner George Bingham. Moses Atwood business did very well. In 1850 his Massachusetts Real Estate was worth $8400.00 which was quite a bit of money at that time.

In 1855 Moses would sell his Bitters Business for around $4000 and move his family to Jackson Township, Poweshiek County, Iowa near the town of Montezuma, Iowa. In the Iowa State Census in 1856 Moses is listed as a farmer also listed is five children living with him. He was still living in Poweshiek County in 1860 now listed as a peddler. It's thought that he started again to peddle his Bitters Medicine. Around 1863 Moses would move to the New Sharon area. Here he would purchase ten acres of land. Moses would continue in the Bitters business in New Sharon according to the 1870 census of Prairie Township listing him as a "Manufacturer of Medicines".

In 1871 a railroad project was finalized and New Sharon would undergo rapid grow and would incorporate as a city. Moses would start dealing with real Estate Development and capitalized form the rapid grow of the city. By 1876 Moses would sell off his real estate holding and by 1878 he would move to Washington County, Kansas with his family. By 1880 he was listed as a farmer once again. Moses Atwood would die in 1892 at the age of 82.

Attwood Jaundice Bitters was still being made by the Manhattam Medicial Company from New York in 1928.

There are quite a few variants of these bottles. Below are just a few of them.



.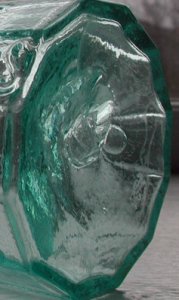 Early pontil style.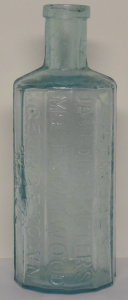 Early smooth base style.

Later style smooth base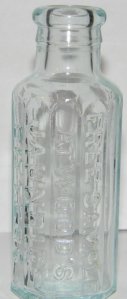 Free sample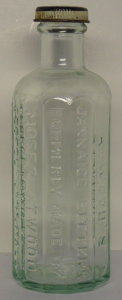 .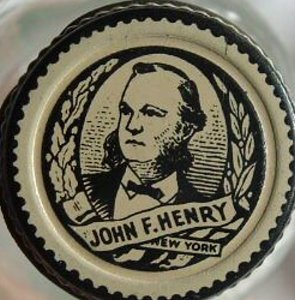 Screw cap style

References:

www.rootweb.ancestry.com

History of Drug Containors and their Lables by George Griffenhagen and Mary Bogard.

Frank & Frank Jr. (Wicker) Bottle Collection.

Below are some different lables.



.

.



The lable below is when Carter & Son was manufacturing the brand.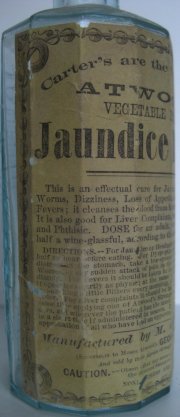 .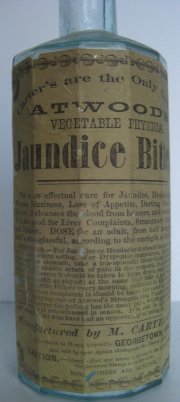 .


..