L. E. JUNG: COLUMBO PEPTIC BITTERS
L. E. Jung was the sole proprietor and manufacturer of this product. The company was located at 317 and 319 Magizine Street New Orleans, Louisiana. At the 1904 Louisiana Purchase Exposition this Peptic Bitters was awarded a gold metal and also at the Lewis & Clark Exposition in Portland, Oregon in 1905. The trademark was file on May 8 1896 and registered on August 4 1895.
There are six variants of this bottle. The photo below of one variant is embossed COLUMBO / PEPTIC BITTERS // L. E. JUNG / NEW ORLEANS. This is a very common bottle.

.

.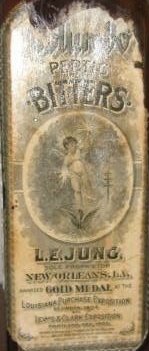 There are three variant that have some embossing that has been peened out. These three bottles are classified as rare. The same company also manufactured Peychaud's Aromatic Cock Tail Bitters and Peychaud's Aromatic Bitter Cordial.

References:
Bitters Bottle by Carlyn Ring & W. C. Ham.
Frank & Frank Jr. (Wicker) Bottle Collection.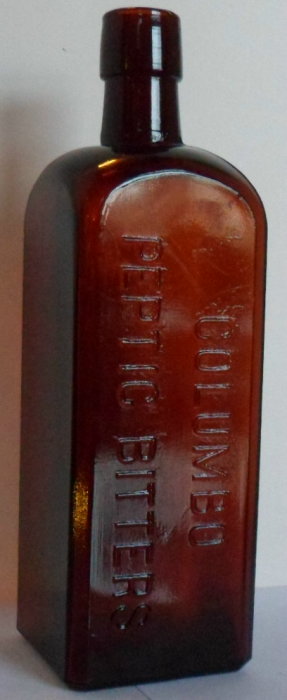 .