MRS. S. A. ALLEN: WORLD HAIR RESTORER
Susan A. Allen was a resident of New York City and the wife to a dentist James Allen. Sometime in the 1845 they would relocate to 355 Broom St. Here is where she would start selling her Hair Restorer. She was first listed in the 1954 New York City Business Directory for selling her hair restorer. A couple years later in 1856 a Frank Allen, most likely her son would join in the family business. He would be listed in the 1856 City Directory also under "Hair die" The last year Susan was listed in the directory was 1861.
Advertisements claim that her product was being distributed nationwide and was being sold in Cuba, Canada and Great Britain.
Sometime in 1862 a wholesale druggist Selah R. Van Duzer would become the preparer and sole agent for Allen's Hair products. She would also trademark the brand name in 1876. Van Duzer's business address was 198 Greenwich Street New York City.
Below is a display item.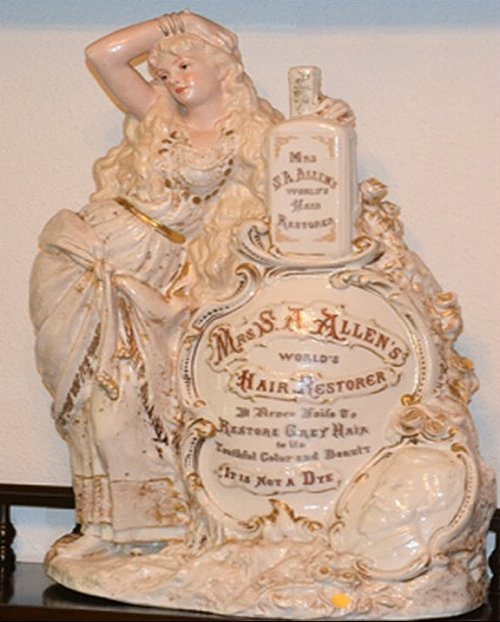 There are at least 8 variants of these bottles. Below is one of these variants. It is embossed Mrs. S. A. Allen's / World Hair Restorer / New York. along with a labeled bottle.

.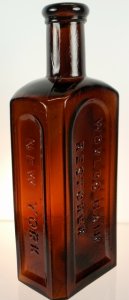 .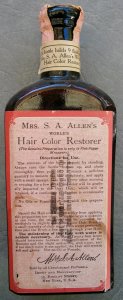 Here are just a few of the Mrs. S. A. Allen's World Hair Restorer ads.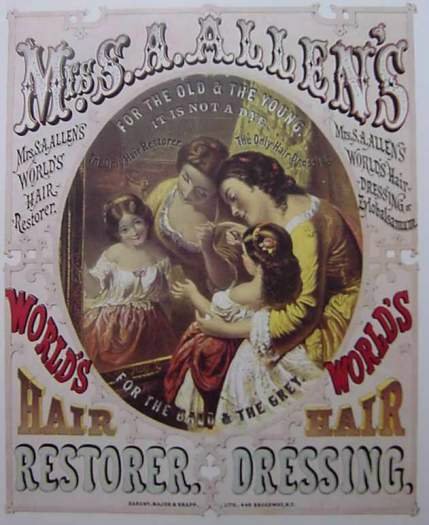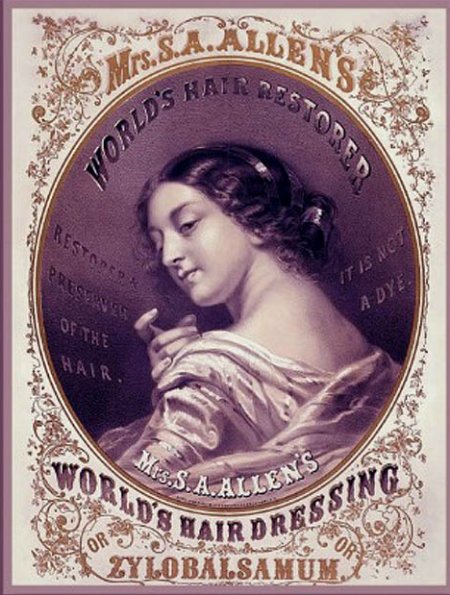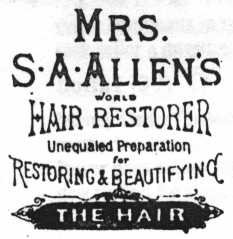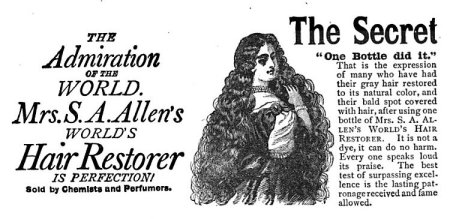 Below is a tax stamp.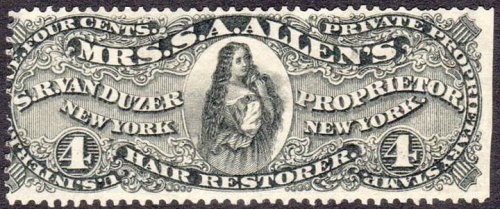 The earliest bottle is embossed with the address 355 Broom Street. It has a flair top and is in the color of a deep amethyst. It is concentered as being very rare and is quite sought after. All of the other bottles have a double collar top.
Below is a Allen's World's Hair Balsam bottle.

. Photo courtesy of ebay.
References:
www.hairraisingstories.com
New York City Directories 1854-1862.
1854 New York City Independent Newspaper.