J. CALVIN SHAFER: RUSS' ST. DOMINGO BITTERS
There is not a lot of information about this bitters bottle. An ad stating that a J. Calvan Shafer was the proprietor and manufacture of Gordon's Pure Fruit Syrup and Cordials and Russ' St. Domingo Bitters. The location of this company was 76 Cortland Street New York, New York.

. From 1876
Below is a photo of this square bitters bottle in the common amber color. It is embossed RUSS' / ST. DOMINGO / BITTERS // NEW YORK.

.

This bottle also comes in the color shades of puce, yellow and green which a rarer examples.
Below is a copy of a trade card. Notice this address is 86 Cortland Street. The trade card says that Russ St. Domingo Bitters cures dyspepsia along with all the other ailments.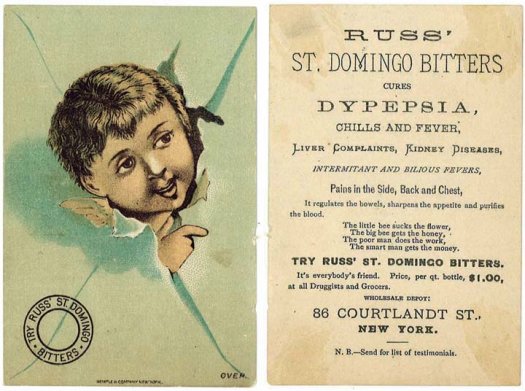 References:
Bitters Bottle by Carlyn ring & W. C. Ham.
www.Peachridgeglass.com (photo of trade card)
Frank & Frank Jr. (Wicker) Bottle Collection.
1876 Important Events of the Century- The Great Centennial Exhibition at Philadelphia.

..