BROPHY'S BITTERS NOKOMIS, ILLINOIS
Here is a 7 ½ inch tall square aqua bitters bottle that I can't find anything about. This bottle is embossed BROPHY'S BITTERS ( inside a crescent) / (motif of a five point star) / TRADE MARK / NOKOMIS, ILLINOIS. These bottles were made from 1875 to 1876. Below are photos of this bottle.





Dennis P. Brophy was born on March 3, 1832 in the city of New York. Brophy lived in the city until the age of fourteen, where he received the basics of an early education. His mother Mary would pass away in 1846 and Brophy would move to Philadelphia and engage in a foundry type business as a mold maker. After 18 months he moved to Baltimore and engaged in the same occupation, with Edwin Star, of the Sun Building (newspaper Baltimore Sun). Brophy would hold several other jobs until he would head west and settle in a central Illinois town of Nokomis in 1857.

Brophy volunteered in the 126th Illinois Infantry Regiment, Company F on September 4, 1862 and became a Postmaster during the Civil war. He would be promoted to Corporal. He mustered out on July 12, 1865 at Pine Bluff, Arkansas. He was given a presidential appointment by President Andrew Johnson as postmaster of Nokomis on August 25, 1865. He would hold this office until November 1, 1886.Later he became secretary of the Farmers Insurance Company, holding that position for a few years.

Brophy would marry Susan Battles on September 17, 1868 and would have two children, Nathaniel B. and Jennie A. who passed away young.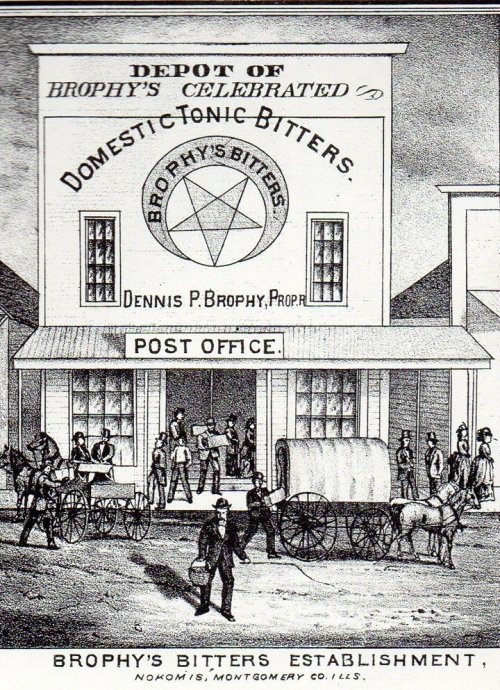 1874 Atlas of Montgomery County, Ill.

By 1870 Brophy had become the proprietor of various medications, which he sold from the post office, also known as "Brophy's Depot". Brophy's Depot was easily recognized by the large reversed star and crescent trademark painted on the façade, which advertised his bitters medicine.

Brophy's signature trademark included a star known as a reverse or upside down pentacle or pentagram. Typically the pentacle is depicted with the star having one point upwards, as a symbol of God and the truimph good over evil. The pentacle having one point down, like the mark on Brophy's Bitters has traditionally been interpreted as symbolic of the devil or the infernal and used in black magic.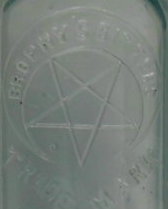 Brophy also held several patents for a mail bag, mail bag lock and label holder. Brophy would pass away on September 14, 1898.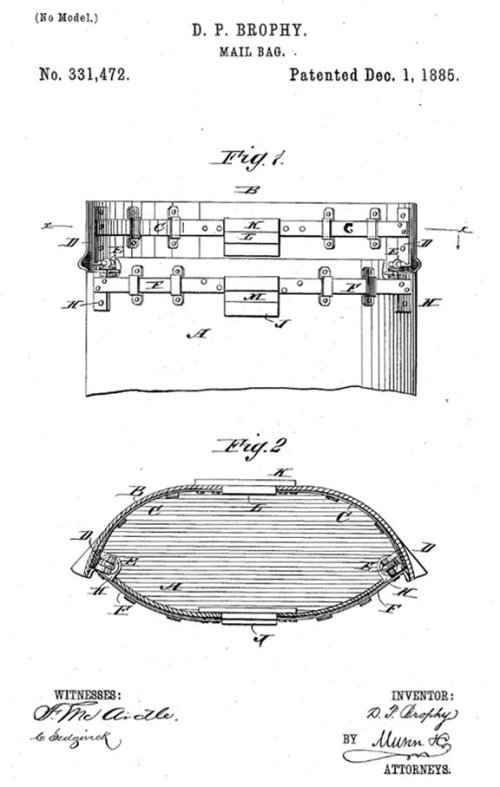 ___________________________________________________________


From "Historical Encyclopedia of Illinois and History of Montgomery County" Volume 2 – 1918

"With the building of the Alton & Terre Haute Railroad, Nokomis came into existence. T. C. Huggins of Bunker Hill came here, and with his keen prescience and foresight saw that the rich soil of the section was sure to attract settlers and business would result from their coming, so proceeded to lay out the site for a town. This was seventeen years before the township was set off and named for the town which by that time had attained to considerable growth. On March 9, 1867, the village was incorporated and out of this small beginning has come one of the best towns in the county. The first incorporation was under the act for the regulation of villages, and later, the growing village was re-incorporated as a town under different provisions of the statute. On Feb. 6, 1893, the town was large enough to desire certain advantages not conferred in the acts under which it was then incorporated, and incorporation papers were taken out as a city. Henry N. Randle was elected as the first mayor; George Schaffer, clerk; George E. Whitten, treasurer and Thomas M. Jett, city attorney, with the following as the board of aldermen: M. Quick, J. S. Weekley, John Hukill, Luther Manning, W. E. Stokes and Peter Moss. The election at which these officials were elected was held April 18, 1893. The officials have been changed from year to year, generally for the best interests of the city and the satisfaction of the people, and today the board consists of: Joseph Weinstein, mayor; H. G. Frerichs, city clerk; August Weber, treasurer and W. G. Webster, city attorney; aldermen: E. W. Tooley, C. K. Kempton, R. L. Kelley, Thomas Umpleby, John Pier and Thomas Wolters. Oliver Boutwell was the first merchant, and after a short time he sold to H. F. Rood, who in addition to the stock of goods thus secured, built another storeroom and opened up a second store. The first hotel was built and operated as the Eureka Hotel. It was North of the railroad. In 1865 James Bone built and ran the second hotel continuing till a fire in 1881, when it was burned to the ground. In 1856 a post office was established in Nokomis With Oliver Boutwell as the postmaster; he served 2 years being superseded in 1858, by H. F. Rood, who held office till 1861, when W. F. Mulkey was put in, only holding office for one year, when Mr. Rood was re-appointed, holding the office in 1864, when Thomas Judson superseded him serving till 1865. By another turn of the government machinery D. P. Brophy superseded him. Mr. Brophy held office till 1888, when Robert Gelly began a four-year term. At its close Mr. John Monaghan got the plum, holding for a four-year term, to be succeeded by Charles F. Best. Mr. Best had hanging on qualities and continued to grace the office till 1915, when he was ousted to make way for A. J. Echoff, who now fills the position "

References:

Historical Encyclopedia of Illinois and History of Montgomery County vol. 2 1918.

Biographical Sketches of Citizens of Montgomery County, Ill.

Medical Mysticism on the Frontier.

Frank & Frank Jr. (Wicker) Bottle Collection.

Bitters Bottles by Carlyn Ring & W. C. Ham.