ADOLPH & LAZARUS SCHARFF: ROYAL PEPSIN BITTERS
Adolph and his brother Lazarus Scharff were partners in a wholesale liquor business. Both brothers were born in Essingen, Daun, Rheinlandpfalz, Germany. Adolph was born on June 1, 1846 and Lazarus on Jan 25, 1843. Adolph arrived to America sometime around 1862. He was living in Cairo, Illinois in 1864 then he moved to Vicksburg, Mississippi. This is where he would become a clerk in a dry goods house of the Scharff Brothers. His brother Lazarus opened a wholesale liquor business in Vicksburg, Mississippi in 1870. He would continue this business until 1876 when he would relocate the business to St. Louis, Mo.
Listed in the St Louis City Directory as L & A Liquors ( Lazarus & Adolph ) Located at 15 South 2ND. Street.
Embossed on these bottles is the phase "HONI SOIT QUI MAL Y PENSE" This is a French phase meaning "SHAME BE HE WHO THINKS EVIL OF IT".
Here are the variants of these bottles. The embossing reads "HONI SOIT QUI MAL Y PENSE" ROYAL PEPSIN / STOMACH BITTERS / SOLE AGENTS / ST. LOUIS, US & CANADA. The sizes are 8 3/4 --7 3/8--6 3/8 inch tall. The 8 3/4 bottle is common in amber and very scare in clear. The 7 3/8 and the 6 3/8 is rare in amber.
There is a 9 inch tall bottle embossed ROYAL PEPSIN / STOMACH BITTERS / ONE FIFTH / GALLON. This one is common in amber and rare in clear.
The sample bottle is 3 7/8 inch tall and is embossed ROYAL PEPSIN / STOMACH BITTERS / L & A SCHARFF / ST. LOUIS, MO. / SOLE AGENT in the color amber and listed as rare.
All bottles have a cork with a glass stopper.
Below are photos of three different these sizes of these bottles.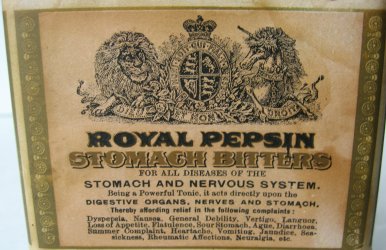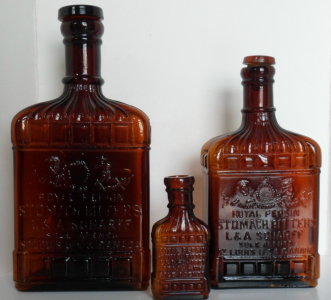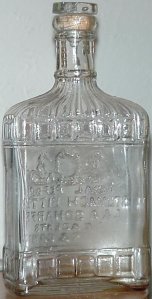 This photo courtesy of ebay.
Above is a photo of a clear bottle.
Below is a ad from the 1902 Meyer Druggist.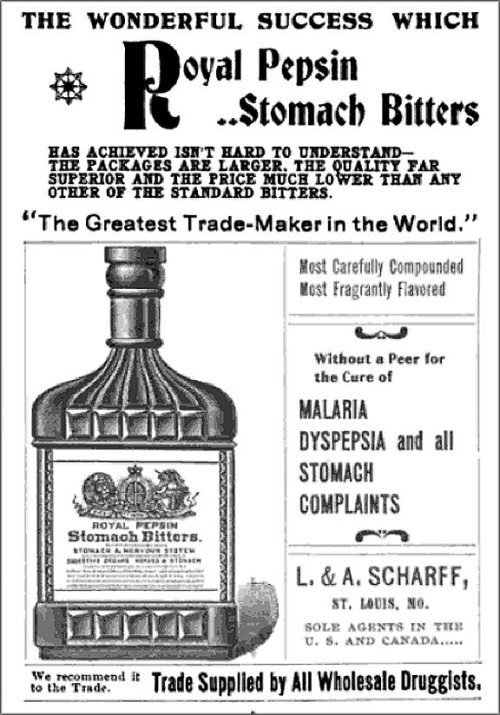 Below is a dose glass.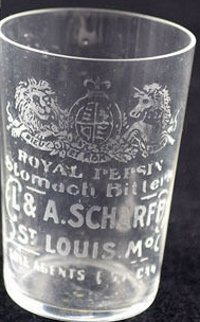 The company also produced Pretoria " Rye is Better" L & A Scharff Distilling Co. Bottlers St Louis, Mo.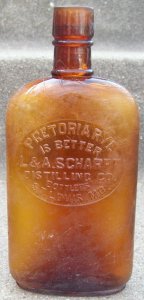 References:
St. Louis City Directory.
Bitters Bottles by Carlyn Ring & W. C. Ham.
www.peachridgeglass.com
Frank & Frank Jr. (Wicker) Bottle Collection.