VAN DYKE BITTERS COMPANY
The beginning of the Van Dyke Bitters Company is unclear. There is an Internal Revenue 2 ½ cent tax stamp issued for the Van Dyke Bitters Co. St Louis from the 1860s along with a 1 cent Internal Revenue stamp.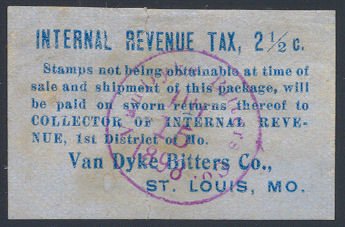 .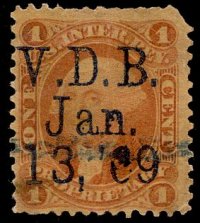 August Carl Ludwis Haase was born on Dec 14, 1828. In 1857 he established a grocery business on Lucas Market Street St. Louis, Mo. The business was called the A.C.L. Haase Fish Co. Within time his sons joined in the business and it was called the A.C.L. Haase & Sons Fish Co. The company would incorporate in 1886.
August's first son Luvis Herman Haase was born on Feb 14, 1861. He would become the president of the Empire Brewing Co. and vice president of the A.C. L. Haase & Son's Fish Co. and Van Dyke Bitters Co. in 1894.
August's second son Edward Haase was born on Sept 19, 1863 and in 1894 he was the director of the Van Dyke Bitters Co.
Below is the Van Dyke trademark. The symbol was a headless running man pictured.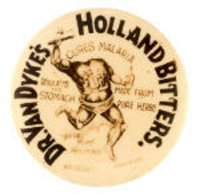 The company also had several go-withs such as playing cards, funnels, stick pins and handled glass pitchers.
In the 1919 St. Louis City Directory lists the address of the company at 416-418 Second St. as a retailer of wines and liquors.
Below are photos the earliest Van Dyke's bottle. This 10 ½ inch tall tapered square is clear in color with a tint of sca. It is embossed VAN DYKE BITTERS CO. / PROPRIETORS / ST. LOUIS, U.S.A. // DR. VAN DYKE'S / MEDICATED / BENEDICTUS GIN / TRADEMARK REGISTERED.

.

There is a bottle with Dr. Van Dyke's embossed on both sides. The label on this later bottle reads Dr. Van Dyke's Holland Bitters. The bottom of the bottle is embossed Patented / June 2nd 1896.
Below is a deck of playing cards with there advertisement.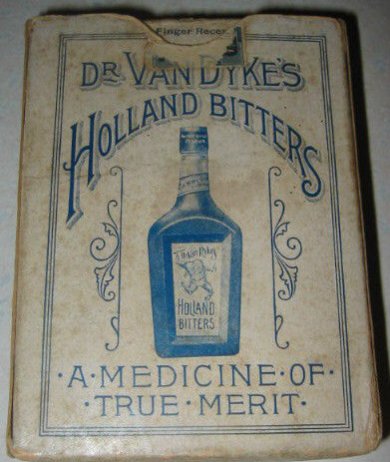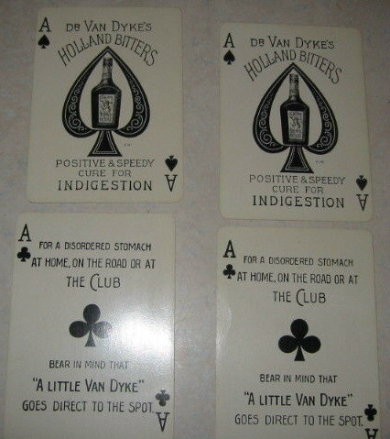 References:
1919 St. Louis City Directory.
1896 St. Louis City Directory.
1906 The book of St Louisans by John W. Leonard.
www.rdhinstl.com
1913 Druggist Era Directory.
1919 Druggist Circular.
Bitters Bottles by Carlyn Ring & W. C. Ham.
Frank & Frank Jr. (Wicker) Bottle Collection.