HARTWIG KANTOROWIGZ: LITTHAUER STOMACH BITTERS: MILKGLASS BOTTLES

The Kantorowigz family had a factory producing liquors, spirits and fruit juices in Poznan, Poland. Their products were very well known in the world.

Hartwig Kantorowigz who was born in 1806 founded his liquor distillery in 1823 at the age of 17 in the city of Poznan. Hartwig would die in 1871. The company was located at Old Market Street No. 10. At that time he had 32 competitors in the same industry.

Hartwig's oldest son Max who was born on March 9 1843 would manage the company with two of his brothers after their father had died in 1871. Edmond who was born on July 14, 1846 and Joseph who was born on December 14, 1848. A fourth son Herman who was born on October 25, 1851 was a clerk. In 1891 Herman would move to America.

The Kantorowicz's company prospered very well. In 1844 he moved the company to Wroniecka Str. No. 6 where he acquired a 50 year old house. One year later he built a two story fully equipped distillery on this property. In 1871 a new house and a new distillery was built. In 1882 the company had two more buildings built. The company was producing 22 different kinds of liquor. There spirits was mixed with various spices.

The bottles of various shapes were produced by Silesian, Saxon and Czech Glass Factories.

By 1907 Dr. Franz Kantorowicz was head of the company. In that same year the company moved to a new building at Grochowe Laki Str. No. 6. The company had several locations at this time.

The Kantorowicz Company was sold on November 5, 1920 for the sum of 20 million marks. Now belonging to the group Schultheiss named CAF Kahlbaum A.G. The new owners continued to operate under the slightly changed name "Hartwig Kantorowicz Successor December 9, 1920

LITTHAUER STOMACH BITTERS

Litthauer Stomach Bitters was invented by Joseph Loewenthal in 1864 in Berlin Germany. The bottles that are embossed Litthauer Stomach Bitters Invented by Joseph Loewenthal Berlin are the earliest variants. These case gin style bottle were a milk glass color.





The S. Loewenthal Co. Joseph's son of Cleveland ,Ohio became the sole manufacture of Litthauer Stomach Bitters. The latter bottles had also been manufactured by the Hartwig Kantorowicz of Berlin. These case gin style milk glass color bottles were embossed Hartwig Kantorowicz, Posen, Hamburg, Germany. Other variants had Berlin, New York, Paris and Nachelg embossed on them. The label reads Litthauer Stomach Bitters : Invented by Joseph Loewenthal: Manufactured by Hartwig Kanaorowicz: Taken over by S. Loewenthal, son of the sole inventor.

Below are two bottle with labels.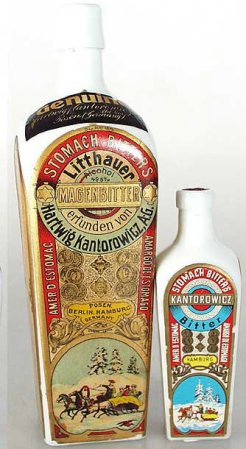 .The A. G. is after 1920.

Some labels read The S. Loewenthal co. Sole Manufacturer, Cleveland, Ohio. Metals awarded 1879, 1891 Berlin.

The Mayer Brothers and Company from New York, New York patented Litthauer Stomach Bitters in May 1880.

Below is a photo of the Hartwig Kantorowicz Factory.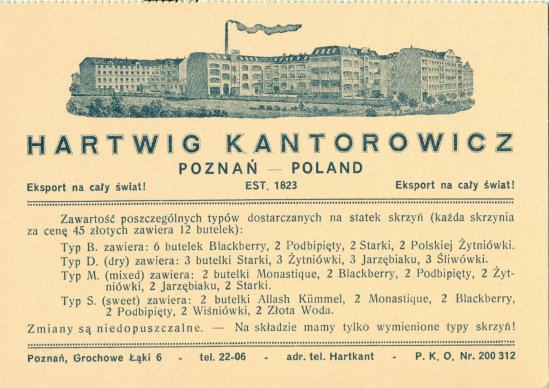 Below is an ad from the Hartwig Kantorowicz Company.

Below are three variants of these bottles First bottle is 8 7/8 inchs tall embossed Hartwig Kantorowicz / (backwards z) Posen / Hamburg / Ger= / Many. Second bottle is a sample 3 7/8 tall embossed Hartwig Kantorowicz / Posen / Germany // ( same ghosted on the other panel). Third bottle is 9 3/8 tall embossed Hartwig Kantorowicz / Nachelg / Losef Loewenthal. There are several different variants of these milk glass bottles.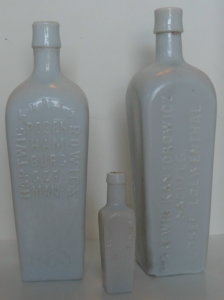 There are two other Hartwig embossed Bitters Bottles with the embossing reading the word Bitters. I don't think they are relative. They are Hartwig's / Alpine Stomach / Bitters a rectangular amber bottle and a Hartwig's Celbrated / Alpine Bitters // St. Joseph, Missouri. A square bottle in the color amber. Both bottles being extremely rare.

References:

History of Kantorowicz Family and their Factory Chronicle of the City Pozan by Stanislaw Nawrocki.

Dr. Cannon medicine Chest.

Glass Works Auctions.

Bitters Bottles by Carlyn Ring & W. C. Ham.

Frank & Frank Jr. (Wicker) Bottle Collection.