EUGENE ROUSSEL: SODA & MINERAL WATER MANUFACTURE

Eugene Roussel is the man that is credited for producing a pleasant tasting soda and mineral water by adding a sugar based lemon syrup in 1838 - 1839. Most of the soda and mineral waters were bland tasting and mainly was use for medicinal purposes. He is also credited for the soda bottle shape which he used for the first time in 1845 along with the use of blue cobalt glass for his soda bottles.

A French immigrant Eugene Roussel at the age of 28 would leave Harve France on the ship Sully and arrive in New York on July 11 1838. Shortly after he would locate to Philadelphia and establish a perfume store at 75 Chestnut Street below Third Street. By 1839 Roussel started to manufacture and bottle mineral waters. Both of Roussel business were heavily promoted.




Roussel would appoint Xavier Bazin to become the director of his perfume laboratory in 1840. Xavier would become a great help in Roussel success. The company started importing perfumery products for retail along with related items such as combs, brushes, mirrors and shaving items.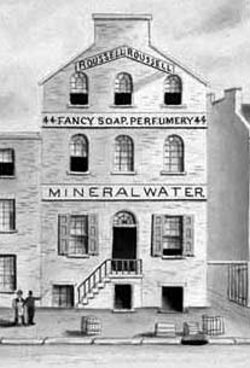 In 1842 Roussel would relocate to 114 Chestnut Street and his mineral water manufacturing and perfumery to 44 Prune Street. The early bottles that he used came from the New Jersey Glass Works. With business doing very well he had Henry Seybert of the Dyottville Glass Works reopen his glass factory and start producing bottles for him in 1842.

By 1846 Roussel opened a branch on 159 Broadway Street in New York.

In 1849 Roussel sold his perfumery business to his director Xavier Bazin. This allowed him to focus more on his soda and mineral water business. By 1853 he purchased the William Heiss Company who was also a mineral water manufacture. He formed a partnership with Wistar C. Parson in 1854 which continued until 1861. Roussel would sell his soda and mineral water business to George Otto in 1867. He would pass away on October 17, 1878.

Roussel soda and mineral water business was very successful which is a good thing for the soda and mineral water bottle collectors. There are 34 different bottles that Roussel used not including shade variants. There are 29 soda shape, 2 ten pin and 3 pony style bottles. Below is just two of the bottles he used.



..



References:

www.sodasandbeer.com

Frank & Frank Jr. (Wicker) Bottle Collection.



.