C.L. CENTLIVRE BREWING COMPANY: FORT WAYNE, INDIANA

Charles and Brother Frank Centlivre were from the Alsace Region of France. Charles founded the French Brewery in Fort Wayne, Indiana in 1862. Charles was already known in the brewery business by having breweries in Louisville, Kentucky and McGregor Iowa.

The French brewery was located between Feeder Creek and the St. Joe River one mile north of the city on Lima Plank Road. This would be the oldest brewery company in Fort Wayne.

Below is a ad from the French Brewery.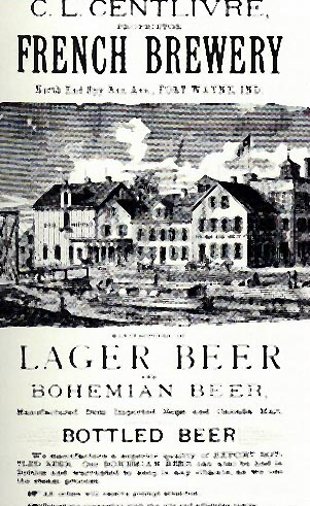 On the night of July 16, 1869 the entire brewery was destroyed by fire. The company buildings were rebuilt and in 1876 a bottling building was built. The French brewery was torn down in March 1884 and a new plant would be built that same year. In 1885 the brewery was renamed to Centlivre.

Below is a post card of the brewery.


Below is a trade card of the brewery.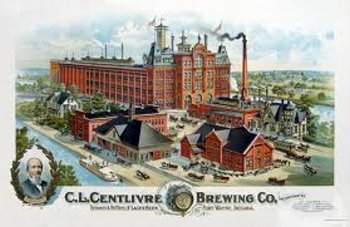 The Centlivre brewery would become very successful. Mr. Centlivre was paying an average of twelve hundred dollars per month to the government in taxes.

Below is a photo of Charles Centlivre residences.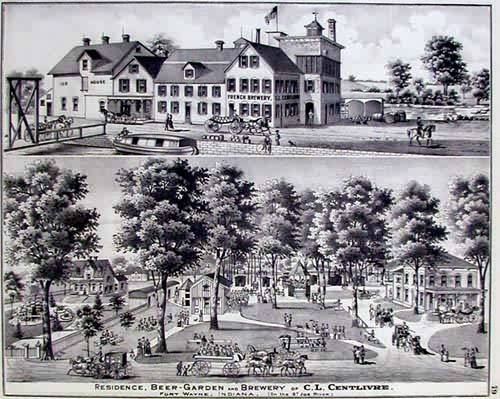 On May 30, 1905 at 1;00 o clock a gang of criminals thought to be around seven blew the safe in the office of the Centlivre Brewery. Binding the night watchman the criminals escape with the money belonging to the firm. The robbery was one of the most daring crimes in the police annals of Fort Wayne at the time.

Charles Centlivre would pass away in 1911.

In 1911 the Centlivre Brewery had six Tanks each holding 62 gallons. Just before prohibition the company would produce 30,000 barrels annually.

Below are just a few kinds of Centlivre beer bottles.



..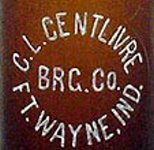 ..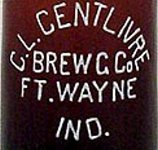 ..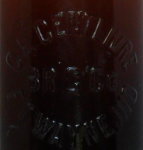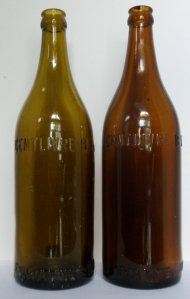 ..



During the prohibition years the company became the Centlivre Ice and Cold Storage Company. For 2 years the company produced a Near Beer called "That It".

Below is a photo of this green bottle.



.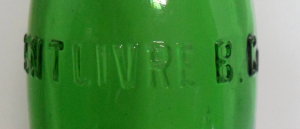 After prohibition the company started producing beer again. In 1939 the company introduced Old Crown Ale Brand. In 1950 a Major 1.5 million dollars expansion was done which brought the capacity up to 250,000 bbls. Alps Brau was introduced in 1957. Others brands included Bohemia, Muenchener Export, Special Export, Old Reliable, Old German and Centlivre.

By 1961 Centlivre company merged with Chris Craft and was renamed the Old Crown Company. This new company was sold to the employees. The company closed on December 1, 1973.
The Old Crown brands were Nickel Plate, Old Crown and Van Merrit.


Below are some ads from this company.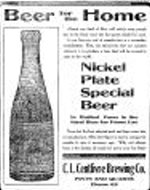 ..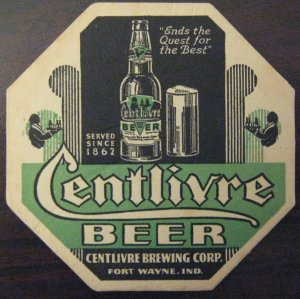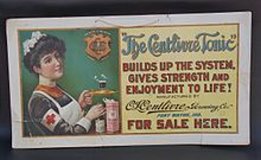 References:

www.indianabeers.com

Frank & Frank Jr. (Wicker) Bottle & Can Collection.