DR. HOOFLAND'S CLELBRATED GERMAN BITTERS

Dr. Christolph Wiheim Hueflin (Hoofland) was a native of Gena, Germany. He would invent this medicine in the 1840s.

The product was introduced to America in 1850 by Charles M. Jackson. His firm which was located at 120 Arch Street in Philadelphia started manufacturing and selling Dr. Hoofland's Celebrated German Bitters with real good success.

Below is an ad from the 1853 Philadelphia Business Directory.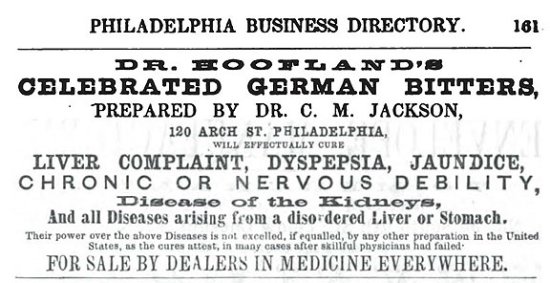 Below is an ad from the June 12, 1861 The Jasper Weekly Courier.





By 1863 the Hoofland's Bitters product was sold to Charles M. Evans who was a clerk in the C. M. Jackson Company along with R. S. Jones. By 1867 the business directory lists C. M. Evans as the sole proprietor of Hoofland's German Bitters.

Below is a Proprietor Tax Stamp (Hoofland's - Evans).




Johnston & Holloway Co. from Philadelphia started manufacturing and distribution of Hoofland's German Bitters in 1873. By 1874 Proprietor Revenue Stamps were issued under the name of Johnston, Holloway.

Below are photos of these stamps.

Below is a photo of a Johnston & Holloway Co. Hoofland's Alamance from 1879.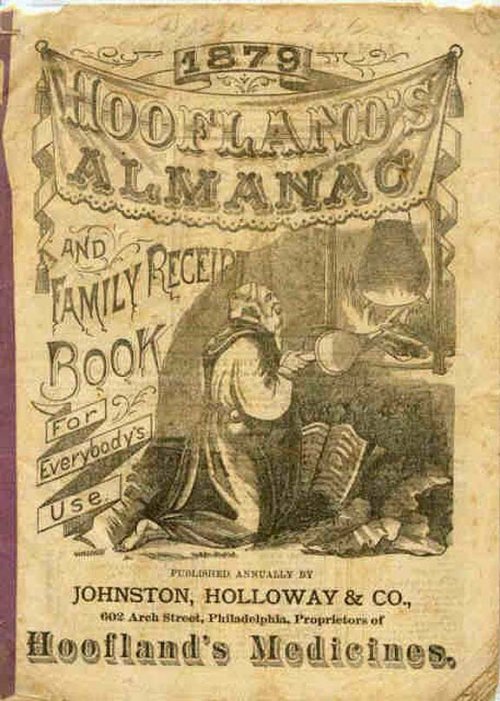 Some more ads.

Here is a little about the Johnston & Holloway Company. Hiram C. Johnston who was a druggist and William Holloway a doctor and druggist first partnered in 1852. A year later James Cowden joined the firm for various ventures involving patent medicines. Cowden would leave the company in 1873. The same year Johnston & Holloway started manufacturing Hoofland's German Bitters.

Below are photos of an early open pontil 7 inch tall variant embossed DR. HOOFLAND'S / GERMAN BITTERS // LIVER COMPLAINT // DYSPEPSI & C // C. M. JCKSON / PHILADELPHIA



.

.

.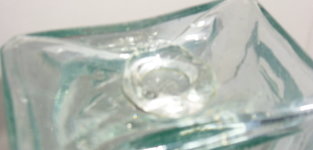 Below is a smooth base variant with labels.



.



Label reads "A Sovereign Remedy for Liver Complaint, Jaundice, Dyspepsia, Nervous Debility, Athma, Disease of the Kidneys, and all Diseases arising from a Disordered Liver or Stomach.

HOOFLAND'S GERMAN TONIC

Hoofland's German Tonic was basically Hoofland's German Bitters with Santa Cruz Rum added to overcome the bitter taste. This medicine was advertised as a non-alcoholic herbal mixture. In the 1887 Chicago Medical Times published a story saying that this medicine was just over 29 percent alcohol.

These bottles are either iron pontil or smooth base.

Below is a trade card for this product.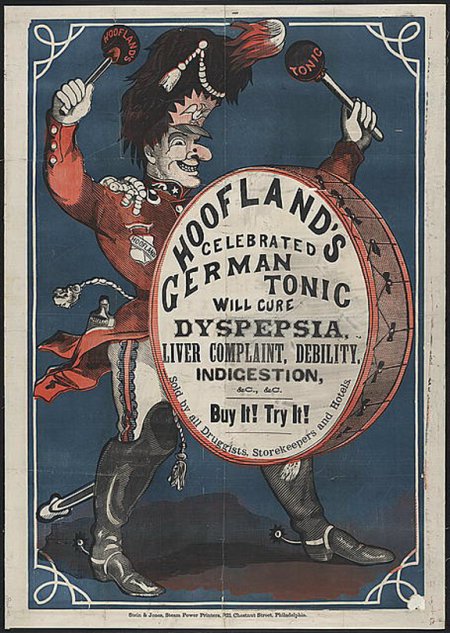 This product was manufactured by the Jones & Evans Co. in Philadelphia.

Other Hoofland's products are.
Dr. Hoofland's Balsamic Cordial C. M. Jackson Philadelphia (open pontil).



.Photo courtesy of ebay.

Dr. Hoofland's Greek Oil.

References:

Bitters Bottles by Carlyn Ring & W. C. Ham.

www.peachridgeglass.com

Antique American medicine Bottles by M Knapp.

Frank & Frank Jr. (Wicker) Bottle Collection. No longer have the label variant.

www.rdhinstl.com

Library of Congress

Potter's American Monthly Ad. Philadelphia Business Directory 1853.

The Jasper Weekly Courier June 12, 1861.



..