N. K. BROWN & CO.: IRON & QUININE BITTERS: BURLINGTON, VERMONT

Nathaniel K. Brown was the successor to Fred Smith of Montpelier, Vermont. Their Bitters was for the treatment of dyspepsia, indigestion, general debility, fever and ague. His company had several locatIONS though the years while in business. One was 11 South Union Street in 1882. Later on it was 115 St. Paul Street. Both address in Burlington. In there later years they had a manufacture located in Milwaukee, Wis.

He applied for a patent on his Browns Concentirated Fluid Extract of Buchu as early as March 12, 1877.

Below is a product list from the 1902 vol. 27 Pharmaceutical Era.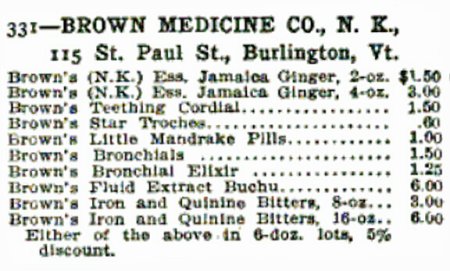 There were two size of his N. K. Brown // Iron & Quinine Bitters // Burlington, Vermont bottles. Below is there small size.







Here is a newer label variant.




Below are some advertisements for there Iron & Quinine Bitters.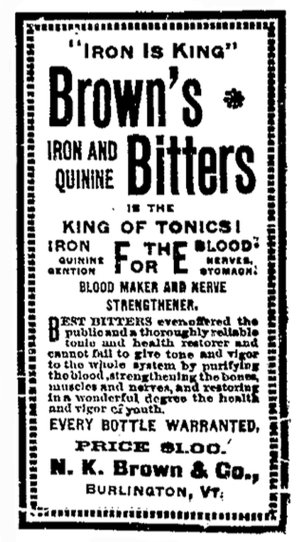 .This ad is from the Oxford Mirror November 12 1891.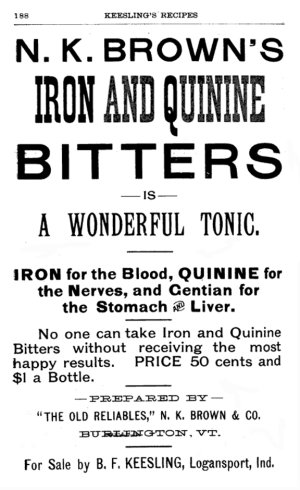 This ad is from the 1890 Keesling Book of Recipes and Household Hints.

Below is a lable.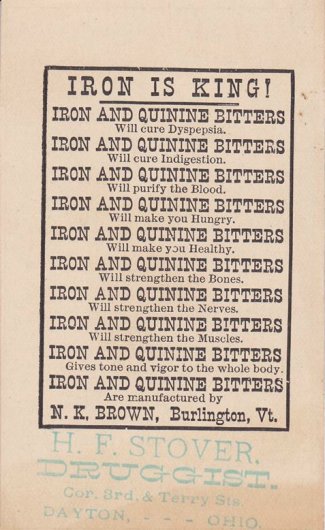 iron%20&%20quine%20bitters%20tc3.jpg



References:

Frank & Frank J. (Wicker) Bottle Collection.