LEWIS HAYNER: HAYNER'S WHISKEY DISTILLING CO.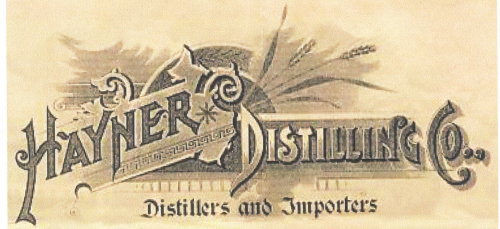 Lewis Hayner was born in 1821 in Warren County, Ohio. Lewis started out as a patent medicine dealer who sold cures and lung medicines. There are a few embossed Hayner medicine bottles which were produced.

Lewis established his distillery in 1866 shortly after the Civil War. He had his distillery built in Troy, Ohio with the main office located in Springfield, Ohio in the beginning.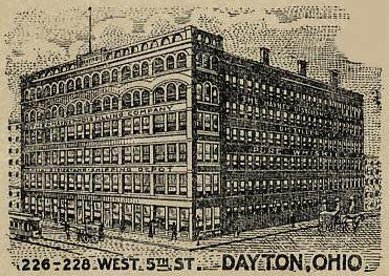 Lewis would pass away in 1892. His nephews William Hayner and C. C. Hayner would continue the companys operations along with Walter S. Kidder who was Williams brother-in-law.

It was Walter Kidder who was credited for the firm going national. Acheiving one of the biggest mail order whiskey houses in the United States. Below are some mail order advertisements.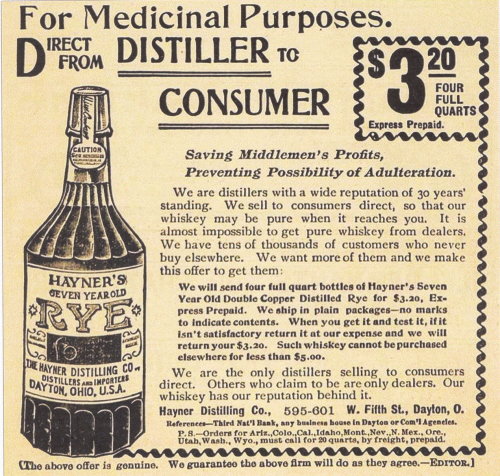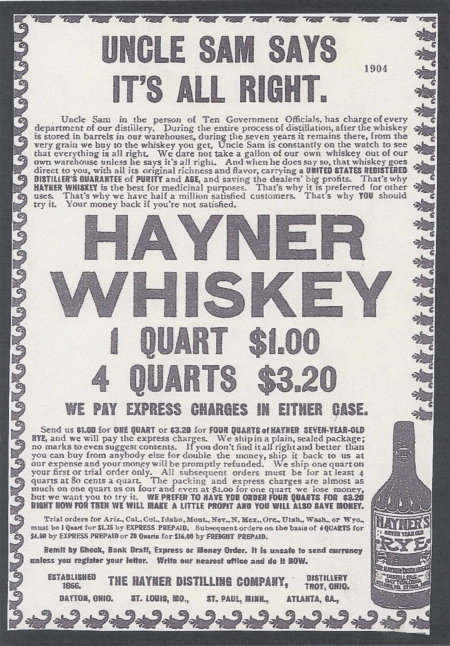 . From 1904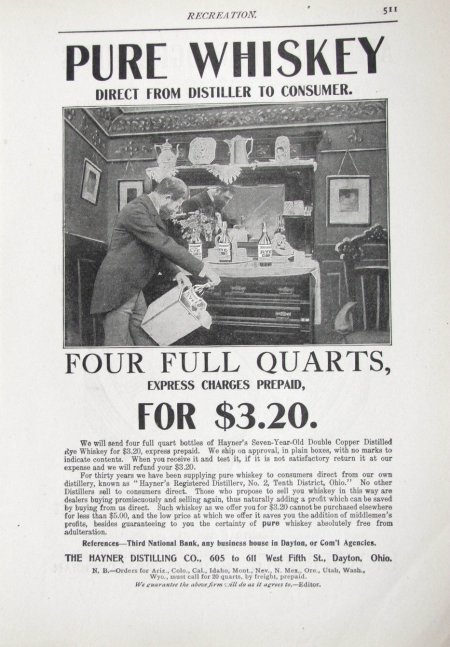 The Springfield office shows the distillery officers as W.M. Hayner (president) E. W. Skinner (vice president) W.P. Russell (secretary) and W. S. Kidder (treasurer) in 1894.

By 1898 the main office and shipping depot was relocated to Dayton, Ohio.

In 1909 William Hayner's brother-in-law Walter S. Kidder designed a specail bottle for Hayner Distilling Company. It was called the W. S. K. bottle. It was designed to appear as a back bar bottle which had a combination lock stopper. The bottle is often called the Hayner back bar bottle. But it was never intended for use as a back bar bottle. The company would sell a bottle full of whiskey for $1.30.

Here is the patented lock stopper.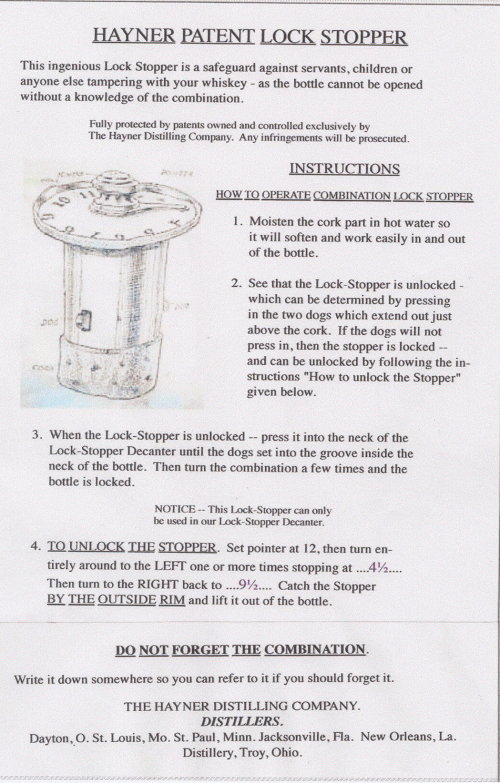 Below are photos of this bottle and stopper.



..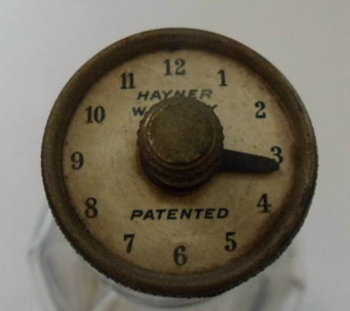 Below are photos of some other Hayner bottles.



.

.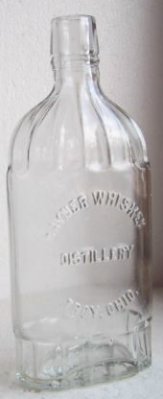 Below are photos of some jugs the company used.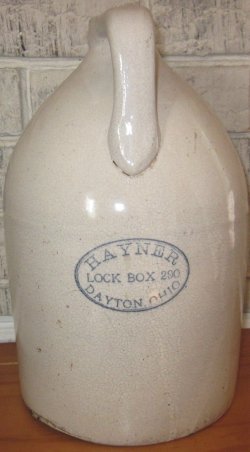 .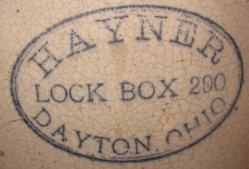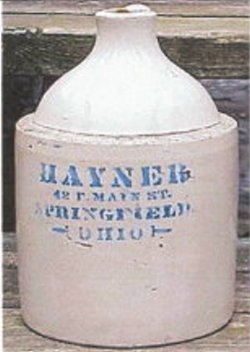 .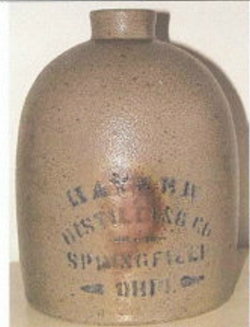 The company also had branches in Atlanta, Boston, Chattanooga, Dayton, Indianapolis, Jacksonville, Kansas City, Louisville, St Paul, Toledo and Washington DC.

The Hayner Distilling co. put out 36 different brands of liquor.

Below is a product list from 1893.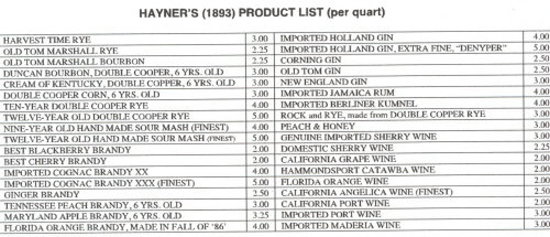 The Hayner Distilling Co. put out several different kinds of shot glasses. Some of the shot glasses were included in cases of whiskey which were purchased or as givaways and shipped to the customers.

Below are just a few photos of Hayner shot glasses.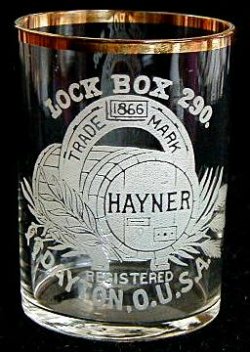 ..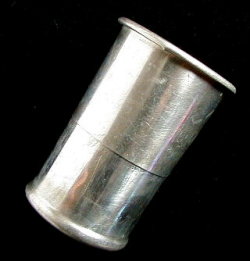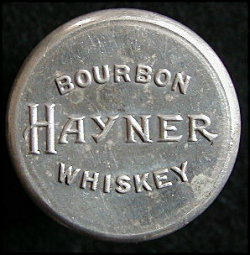 In 1913 with the passage of the Webb-Kenyon Act, which made it illegal to transporton liquor across state lines. This law put a major hurt on the Hayner Distilling Co. It would put the company into financial trouble. The company went out of business when prohibition took efect.

Here are some brand name the company used. Cream of Kentucky, Golden Jubilee, Duncan Bourbon, Harvest Home, Hayner Specail Rye, Hayner, Miami Valley Rye, Old Trojan, W. S. K. and Tom Marshall Rye.

References:

Jack Sullivan, (Whiskey by Mail.)

prepro.com

Cecil Munsey Phd, (Hayner Distilling Co.)

Beresford Gorden, Hayner the Whiskey that made the post office popular.

Some photos courtesy of ebay.

Frank & Frank Jr. (Wicker) Bottle Collection.