VINTAGE OLD PAPER : BITTERS & PATENTED MEDICINE
Below are photos of some patent Bitters and Medicines booklets, almanacs and other forms of paper advertisement. Most all the big drug companies would used these means to promote their products. Note that some of the lithografs were made to be very eye appealing. The first picture is of a Dewitts 200 Year Calendar and Book of Horoscopes from the Dewitts Co. Chicago , Dr. Kings Guide to Health and Household Instructor from the H. E. Bucklen & Company from 1886 and Nickols Bark & Iron booklet from Billings Clapp & Co. Proprietors.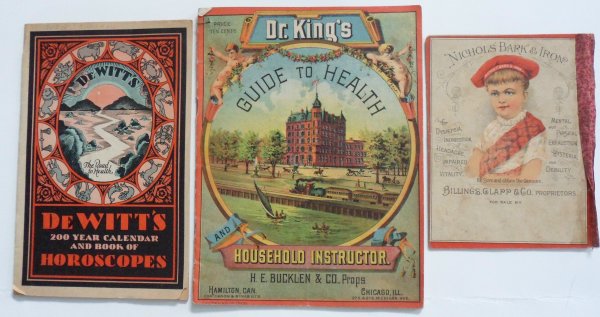 This second picture is a Wakefields Annual Almanac and Account Book from 1891 and the other Wakefield's booklet from 1892. Also a Beechams Held to Scholars booklet from the Proprietors of Beechams Pills 365 Canal St. New York from Jan 1909. And a Shaker family Almanac from 1888.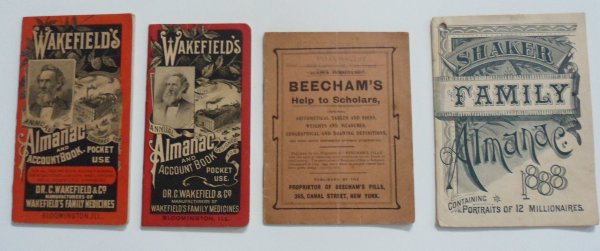 This third picture is a Emersons Bromo- Seltzer 1910 calendar from the Emerson Drug Co. A Beechams Oracle which is a novelty hidden picture drawing game from 1909 and a Pierce's Memorandum and Account book Farmer's Mechanics and all People Booklet from 1906.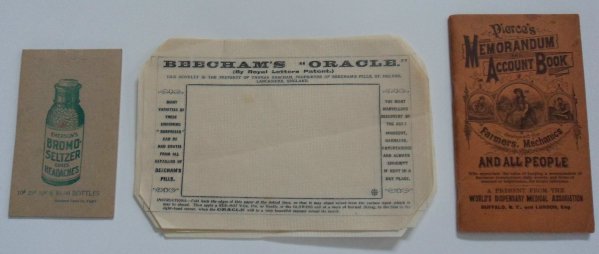 References:
Frank & Frank Jr. (Wicker) Vintage Paper Collection.