HERMAN TOSER CO. MILWAUKEE: WILLIAM FRANK & SONS PITTSBURGH; UNEMBOSSED MONOPOLE BITTERS

Below are photos of a unembossed Monopole Bitters.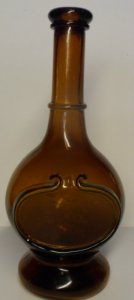 .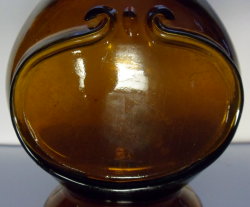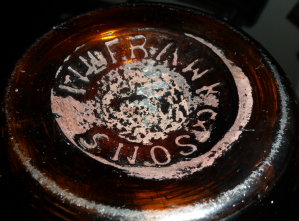 .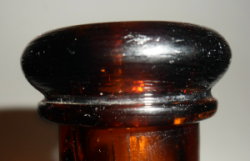 This figural style bitters bottle is embossed on the base Wm. Frank & Sons. The bottle is 11 inchs tall and has a red iron pontil mark which also covers the base embossing. These bottles were made at the Franktown Glass Works in Pittsburgh, Pa. and are listed as extremly rare. The bottles were used by Herman Toser from Milwaukee, Wis. who ran a wholesale and retail liquor business.

Here is a little about Herman Toser.

Herman Toser was a immigrant from Germany. He was born in 1833 and immgranted to the United States in 1854 ending up in Milwaukee. He would marry Phellippina who also was an immigrant from Germany. Together they would have three children. In 1866 Herman estblished a whole sale and retail liquor business along with a saloon with a partner called Arend. The business was located at 424-426 East Water Street. By 1871 Arend had left the business and Herman would relocate to 275 East Water Street.

Below is a phote of Herman Toser's business, located on 275 East Water Street.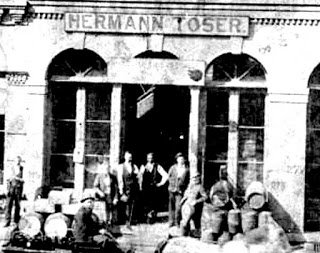 In 1872 he estblished the Herman Toser Weinstube which was in the cellar of his liquor business. It was located at Mason and Water Street in Milwaukee. Here business men and professionals would meet to enjoy wines from there homeland Germany and sandwiches made with rye bread.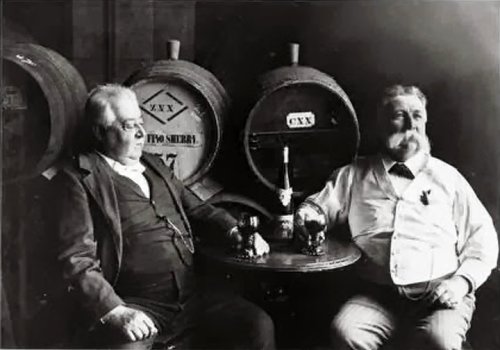 Herman would pass away in 1907. The company would continue until 1918.

Here is a little about William Frank Co.

It is uncertain when his glass works was started. Some say it was around 1845 but most likely it was around 1857-1858 in Pittsburgh. The company was called the Franktown Glass Works with Ephraim Wormer and William Frank Owners. In 1866 Ephraim Wormer deeded his shares to the glass works to William Frank. William would rename the company to William Frank & Sons. The time line of the company was from 1866 to 1875. Besides the bottle above the glass works produced jars, flasks,beers, sodas and other liquor style bottles.

William Frank's son Herman was the inventor of the family. He had two patents issued for forming bottle mouths and one for a bottle stopper.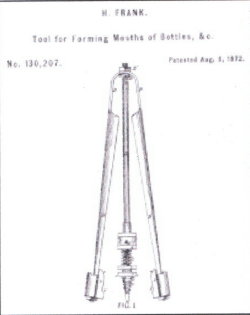 ..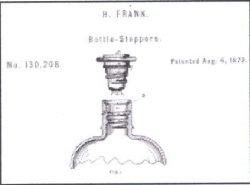 References:

McKearin & Wilson 1978.

Innes 1976.

Toolouse 1971.

Those prepro men by Jack sullivan January 2014.

Frank & Frank Jr.(Wicker) Bottle Collection.