GEORGE DART: TUXEDO STORE COMPANY: DRUGGIST

George Dart was a native of Ulster County, N. Y. He was born in 1855. George established his pharmacy the Tuxedo Store Company in 1886 in Tuxedo Park, New York. Mr. Dart had previously been engaged in the drug business at 30th street and Broadway, New York City which he discontinued in 1888. He would die in a automobile accident in 1912 at the age of 53.

Below is one of his bottles. It is embossed GEORGE DART / PHARMACIST / TUXEDO PARK, N.Y.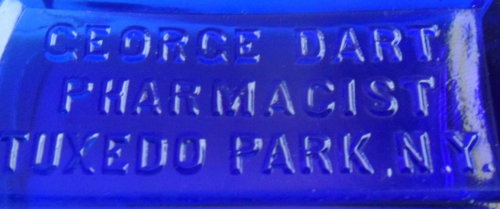 Here is some conflicting information. Stated that he graduted from the New York College of Pharmacy in 1888.

Here are some other facts about Mr. Dart. He was instrumental in the establishment of the Tuxedo Stores Company, and has been identified with various movements for the improvement and advancement of Tuxedo in material, moral and religious matters. He was the president of the Board of Education, director of the Tuxedo Library and trustee of the Methodist Episcopal Church.

References:

The History of Orange County New York 1908.

Frank & Frank Jr. (Wicker) Bottle Collection.