THE DICK BOTTLING WORKS: MICHIGAN CITY, IND.

Here what we know about this firm. There were two different owners or companies from Michigan City Indiana that were bottling. One of them was C. G. Dick who later partnered with Harvey Luchtman. That bottling company now would become the Standard Bottling Works. The other company was owned by J. A. Dick. Still not sure if they were the same person or a family member involved in the company.

Below are photos of one of there quart size bottles. Its is embossed THE DICK / BOTTLING WORKS / MICHIGAN CITY, IND. The base is embossed C & CO.LIM. This bottle is the from the Cunningham & Company Pittsburgh, Pa. 1886-1907.



.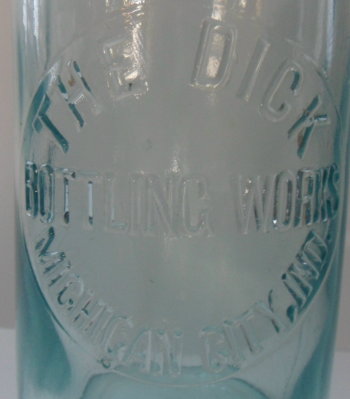 From the Smith Directory 1913 Michigan City, Ind. Lists a Dicks Bottling Works High grade soft drinks & mineral water, coca cola, ginger ale. Bottled beer for family use. All bottles strickly sterilized. 026 Michigan St. Michigan City, Ind Phone# 1104.

From the Michigan City Directory 1909-1910 states 1004 Michigan Street bottle Miller Beer for home use.

References: Frank & Frank Jr. Bottle Collection.