GHOSTED, GROUNDOUT & PEENED : BOTTLES
Unlike today, glass companies before the invention of the automatic bottle making machine did not believe in wasting anything. The bottle mold which may have had embossing printed in the mold or slug plate. A slug plate was a metal plate which would have the firm's name on it. This plate would be inserted into a bottle mold allowing the glass company to use the same mold for other companies just by switching the plate. Glass companies may have used the mold or slug plate so much that the embossing would become very weak. This is what you call ghosted. Maybe a mistake was made in the mold or slug plate either in the spelling of a word or adding or deleting a word. Instead of pitching the mold or slug plate in the trash, they may have ground out the mistake and corrected it. Some would peen out the lettering so a label could be tagged on that side or just so they could reuse the mold or slug plate for others firms name or for the correction of a word. Below are just a few examples of these ghosted, ground out and peened bottles.
DR. WARNER'S GERMAN HOP BITTERS embossing ground out.

DEWITT'S STOMACH BITTERS embossing peened out one has a weak peen and the other has a stronger peen.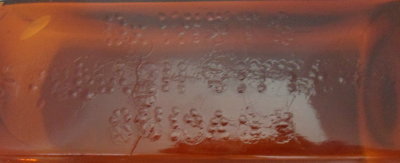 DR. STOEVER BITTERS city was blocked out and a new city added.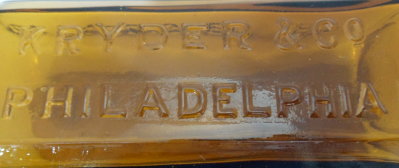 OLD DR. WARREN'S QUARTER BITTERS something was blocked out and Quaker Bitters added.

CAPITAL BITTERS ghosted embossing.

WALLACE'S TONIC STOMACH BITTERS something blocked out on the back panel and left blank.

SUNNY CASTLE STOMACH BITTERS the h & n was peened out and a S was added, was John now Jos.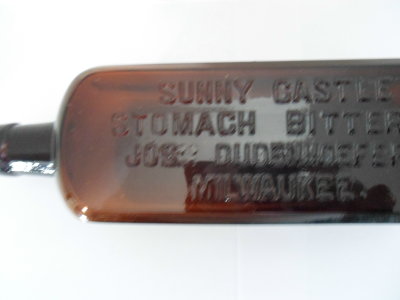 HOME BITTERS CO two slug plates was peened out and new lettering added.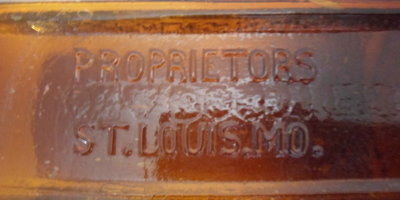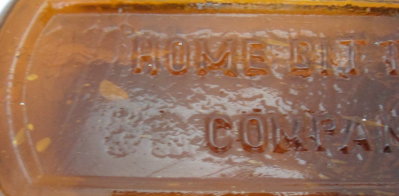 Red Jacket Bitters. Schwab. Mcquaid has been peened out and Monheimer & Co. added.

Mischler Herb Bitters. Dr. S. B. Hartman is peened out.

Frank Miller & Co's. Stomach Bitters has been peen out and Celebrated Brand add.

Dr. Mampes Herb Stomach Bitters. A unembossed panel has H H peened out.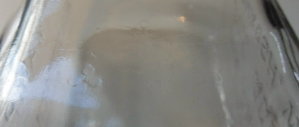 O. P. BISSELL: BISSELL'S TONIC BITTERS PATENTED JANY.21.1868: PEORIA. ILL. ( peened out & CO.)

References:
Frank & Frank Jr. (Wicker) Bottle Collection.