DR. MAMPE'S HERB STOMACH BITTERS OF WISCONSIN, YOU MAKE THE CALL

Dr. Mampes Herb Stomach Bitters opposite side John Thielen Sole Agent Oshkosh, Wis. Could this bitters be the same product that the Medical Practitioner and Royal Prussian Privy Medical Councilor Dr. Carl Mampe invented at Stargard, Pomeriania, Germany in 1831. The famous Bitter Drop which consisted of alcohol and herbs. That's a mystery still, but heres what we can tell you. John P. Thielen a liquor whole sale dealer was the youngest son of Peter Thielen (1810 - 1887) from Neuenberg, Germany near Tier Germany. Like many of immigrants from Germany and other European countries, he was looking for the hope and dreams that the United States of America could offer. It is thought that Peter Thielen and his children arrived in America around the 1850s. His first born daughter Anna Thielen (1835 - 1900) oldest son Frank X Thielen (1840 - 1914) daughter Catherine Thielen (1844 - 1921) son Paul Thielen (1845 - 1894) and then there was John P. Thielen (1849 - 1934). Peter Thielen and his sons would end up settling in Oshkosh, Wisconsin around 1864. Peter Thielen first shows up in the Oshkosh city Directory in 1868 as a laborer located on 203 Main street. One year later Peter Thielen and son Frank X Thielen was listed both as a laborer now located at 201 main street. Son Paul Thielen was a breakman. In 1872 Peter Thielen and son Frank X went into the grocery business located at 158 main street. John P. Thielen would be a musician at this time. By 1876 son Paul join his Father Peter and Brother Frank X Thielen in the grocery business. John P. Thielen went in business with Nickolas Faustgen. They had a saloon and billiards business offering the choicest brands of wines, liquors and cigars located at 80 main street. In 1879 Peter Thielen was no longer a grocery and was listed as a saloon. Frank X and Paul Thielen now were partners in a grocery business at 154 main. They were offering provisions, produce, fruits, canned goods, flowers and plants. In 1880 John P. Thielen would have his own saloon and billiards business located at 98 main street. By 1883 Frank X and Brother Paul Had separate grocery stores. Franks X at 168 main street and Paul at 374 Main street. John P Thielen went in business with long time liquor dealer August Weidner located at 33 main street. This was the beginning of John P. Thielen becoming a liquor wholesale dealer. August Weidner was listed in the 1857 city directory as being a liquor dealer. By 1886 John P. would be listed as being a whole sale dealer in fine Kentucky Whiskies, Brandies, Gins, Rum, Champaigns, Scotch and Irish Whiskey, pure wines and liquors for the drug trade. Also a fine bar for retail trade. This business was located at 146 main street. In 1887 John P. Thielen father Peter Thielen would pass away. By 1893 John P. Thielen business was located at 26 & 28 Washington Street. This would be the same address which is on the Dr. Mampes Herb Stomach Bitters label. In 1894 John P. Thielen brother Paul Thielen would pass away. In 1895 John was the owner and president of the Silver Springs Distillery Co. This would be the first time that Dr. Mampes Herb Stomach Bitters 26 & 28 Washington Street would be listed in the city directory. In 1898 John P Thielen would be listed as a sole agent for the Dr. Mampes Herb Stomach Bitters. In both listing in 1895 and 1898 the name Mampes is spelled Mapes. This is not the same spelling which is on the label. By 1903 John P. Thielen was listed as a whole sale liquor dealer business and no longer a sole agent for Dr. Mampes Herb Stomach Bitters. John P. Thielen stayed at the 26 & 28 Washington address whole selling liquor until 1919. By 1920 the eighteen amendment involving prohibition would put him out of business. In 1921 John P. Thielen would relocate his family to Los Angles, California were in 1934 he would pass away at the age of 85.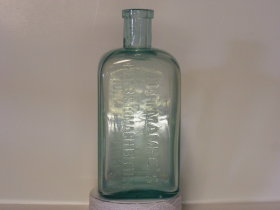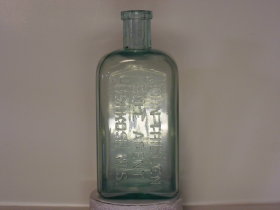 The label on the bottle reads. Dr. MAMPES Herb Stomach Bitters sold by JOHN THIELEN 26 & 28 WASHINGTON ST. OSHKOSH, Wis. Solo Agent For the United States. The center of the label has a photo of an old man setting on a pile of books holding a handful of herbs while looking at a book. There's an alcohol still and a scale in the photo along with Five coins or metals.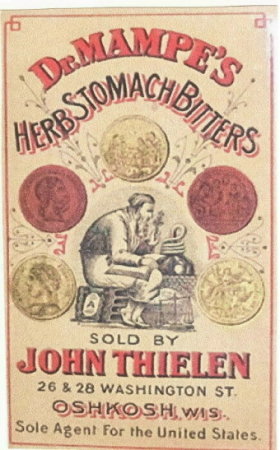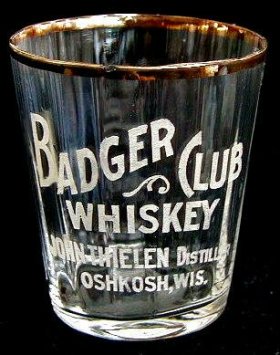 The Mampes companies in Germany used lithograph photos of metals on some of there bottle labels. Both man are from Germany. The words Sole Agent for the United States on the label. Maybe there was some kind of a business dealing going on either with Carl Mampes or F.J.Mampes Companies or he was just counterfeiting the Mampes recipe for profit. Our conclusion is that its still a mystery but has some interesting coincidences.

More about this bottle. The bottle was made in clear and aqua. The clear being more common than the aqua. The bottle height ranges from 6 ¾ inches to 7 inches with a smooth base and a tooled lip. This bottle is listed in the Ringham as RH# M-26 and listed as being rare in the color aqua.

Reverences;
Bitters Bottles BY Carlyn Ring & W. C. Ham Copyright 1998
www.rootsweb.com
www.ancestry.com
Oshkosh Public Library City Directory
PrePro.com
Frank & Frank Jr. (Wicker) Bottle Collection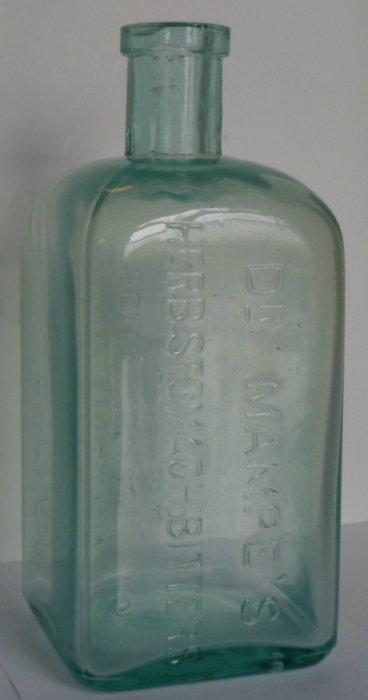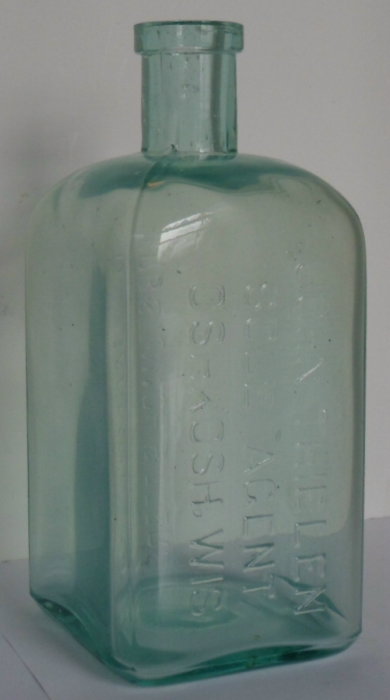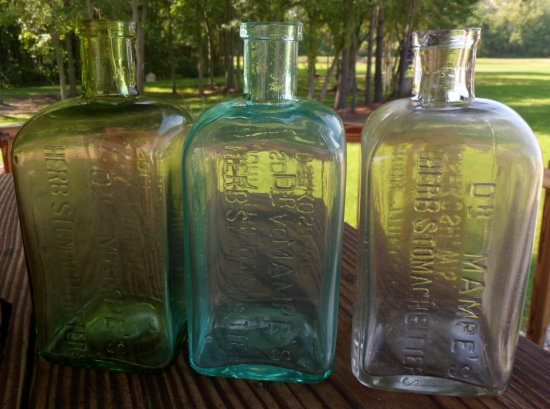 The critron one the left and the clear one on the right are rare