FERDINAND JOHNANN MAMPE LIQUOR EMPIRE (PART 2)

Ferdinand Johnann and Carl Mampe were stepbrothers of Dr. Carl Mampe the inventor of the famous alcohol based Stomach Bitter Drop. Dr. Carl Mampe would donate his recipe to Ferdinand Johnann and Carl Mampe. The U.R. Mampe was created in 1835 and became a Stargader Mampe. In 1835 Ferdinand Johnann would Open the F.J. Mampe Factory in Stargard, Germany. Carl Mampe would open a second factory at Koszalin, Germany. The brothers would have a disagreement. In 1877 Carl Mampe would move his family to Berlin Germany and open the Carl Mampe A.G. Company. This started a Family competition between both companies. Both brothers where using the same Bitter Drop recipe to produce there product, Bittere Tropfen and Halb & Halb. This would cause many court battles between both companies. The F. J. company produce liquor in Stargard, Germany until the Russians marched in to Stargard. The Company was rebuilt in 1945 in Hamburg, Germany. While the F.J. Company was in Stargard, Germany the label on the bottles had a picture of the famous historic Mill Stargard. The early F.J. bottles had a applied seal on there bottles with there Castle trademark. When they stop using the applied seal they would have there monogram of there trademark embossed on the bottles. Just like his brother Carl who's trademark was the Elephant. After the company move to Hamburg, Germany there advertisement was with the fraternity drinking Monks.

The Bitter Drop recipe was used by the Red Cross in the first world war. They would administer it regularly to the German troops. One of the stories about the mampe liquor was that animal scavenger Christoph Schulz in Central Africa while filming the Baila Dance, one of the Africans put a animal plant poison in Christophs tea. This made him lose his speech and be paralyzed. His wife gave him some Mampes Bitter Drop which brought him back to life.

The early bottles were embossed with the words Stargard I Pom. This was a part of Germany before World War 1. After Germany lost the war the Treaty of Versailles would make the city of Stardard Pommern a part of Poland. Which formed the Province of Pomerelia.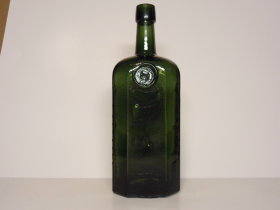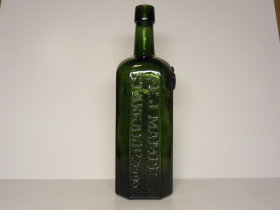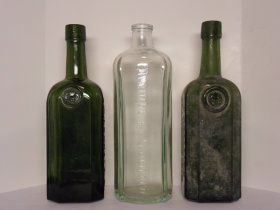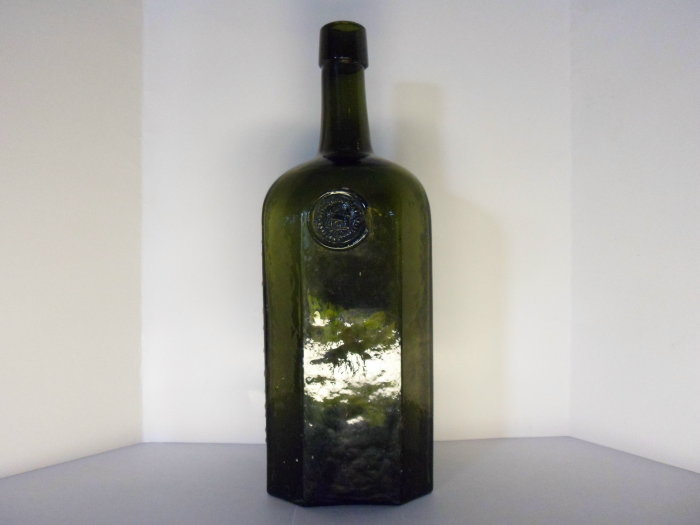 Here are just a few of the F.J. Mampes bottles. There are over 19 types of F.J. bottles. When you add up all the different sizes and colors, not including different shades of color of these bottles. There is over 56 examples you can collect, and maybe even more. Note no screw cap bottles included also.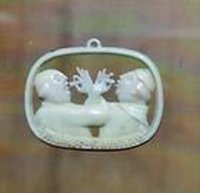 The drinking Monks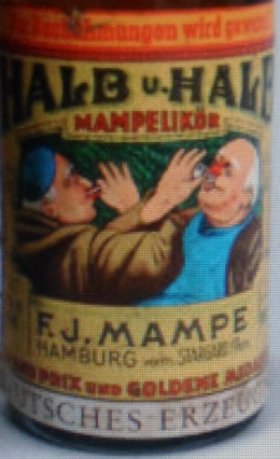 Above photo of a modern label.
Below is a sign.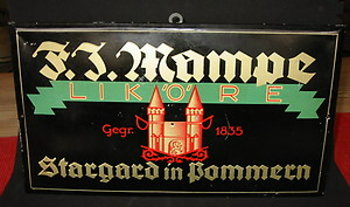 Below is a lable.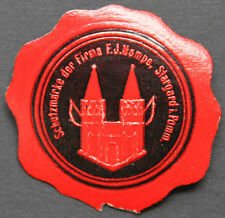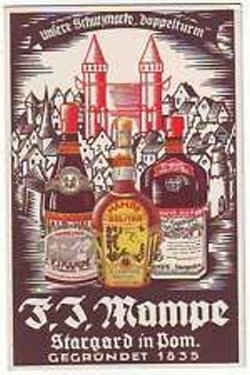 . From 1925.
Below is a 1915 trade card.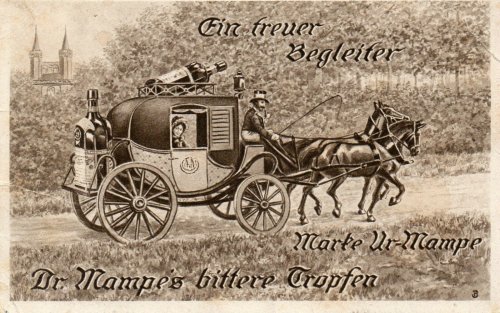 References:
www.mampemuseum.com owner Karin Erb. Berlin
Frank & Frank Jr. (Wicker) Bottle Collection