DR. JOSEPH S. WARREN: YERBA BUENA BITTERS
Yerba Buena used to be a town in California until 1847 when the town was renamed San Francisco. Sometime in 1869 Homer Williams and Alfred Wright who had a medical business would purchase a formula from a San Francisco doctor thought to be Dr. Joseph S. Warren. Eventually Homer Williams would be the sole owner. Then around ten year later in 1880 he would retire and sell the rights to Yerba Buena Bitters to the Paul O. Burn Wine Company. This company was from San Jose, California. This company would continue to produce the bitters until prohibition ceased the production.
The Yerba Buena Bitters was produced for fifty years 1870 to 1920 with the early bottles having the curved R. There are four variants of these bottles. Below are photos of two of them. The first bottle is embossed YERBA BEUNA // BITTERS, S. F. CAL. The height is 8 ¾ inches and is the earlier version.
This second bottle is embossed YERBA BEUNA // BITTERS, S. F. CAL. The height of this bottle is 9 ½ inches and is the later version.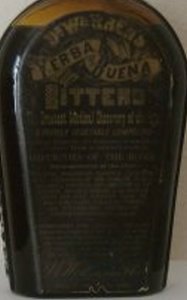 Above is a Dr. Warrens Yerba Buena Bitters label courtesy of ebay.
Below is a ad.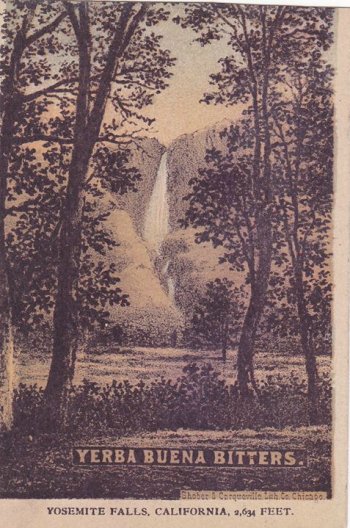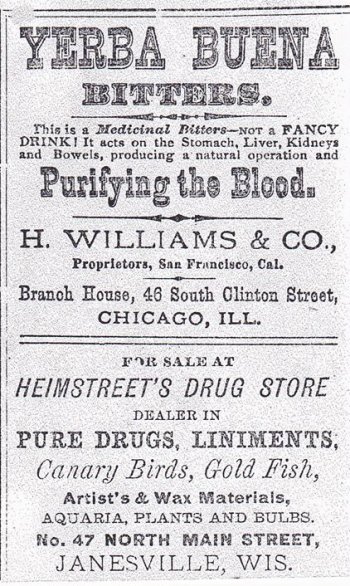 References:
www.westernbitters.com article by California Kid Feb 2010.
Bitters Bottles by Carlyn Ring & W. C. Ham.
Frank & Frank Jr. (Wicker) Bottle Collection.